Everything is changing in the world, there's constant motion. NHL hockey teams are no different. You either adapt and adjust to your needs, or the rest of the league leaves you in the dust. The Hurricanes did exactly that this morning, they adjusted to their needs when they traded Alternate Captain, center Kevyn Adams to Phoenix for defenseman Dennis Seidenberg.
With the Canes playing with only 5 healthy defensemen in the last game, something had to give. People had to either get healthy fast or they would have to shift Scott Walker to defense temporarily. Apparently neither was a viable option and Rutherford pulled the trigger on the trade. On paper, it looks like an even trade. Adams was having an off year. (I gave him a grade of F for the first half of the season). Who knows, maybe he has lost that extra jump he always displayed whenever he stepped foot on the ice. It was missing this year. Also, he could always be counted on to chip in with some scoring from time to time. That had also vanished this year. Eric Belanger replaced him on the penalty kill unit, so it seems that Kevyn was expendable, more so than any other Hurricane right now. While Seidenberg hasn't lit the NHL on fire since he was brought up through Philadelphia, he is only 25 and still has upside. He had an excellent year with the Phantoms the year they won the Calder Cup championship in 2004-05, the lockout year. He's another fast skating, puck moving defenseman, certainly a commodity in the "new" NHL. But he has suffered through his injuries as well.
While on paper the trade may look even, off paper many Caniac's hearts are broken today. Kevyn was extremely fan friendly and easily a fan favorite. He never forgot his roots, always took time for the fans, and always treated them like his friends. He was very active in the community. Who can forget the night we won the Cup when he carried his little girl and skated around the rink, waving to the fans who just couldn't bring themselves to leave yet. I could go on and on with Kevyn Adam's stories, but the one I'll never forget was one that I read which was told by tailgaters having a season opening tailgate party. It was early October, 2004 opening night. The parking lots were all quiet though, due to the league mandated player lockout. Some fans gathered for a tailgate party anyway, grouped their cars together, and were having a few beers while commiserating. Suddenly, up pulled a small silver Audi to the party and out hopped Kevyn Adams! He said hi to everyone, apologized for the state of the league/union, and had a couple of beers as well. Now that is a player friendly fan!
Rumors of a trade involving Kevyn had been circulating for several weeks now. One would like to think this had nothing to do with the altercation between him and Bret Hedican earlier in the year, but who knows. Either way, that stuff needs to stay in the dressing room, so this blogger won't make any assumptions about that. The bottom line is that Kevyn's numbers were way down for the year and he was expendable. While he might not be missed very much on the roster or scoresheet, he will be missed in the hearts of Caniacs. We will always wish him well, just like any of our Cup winning players, no matter where they go and we'll always remember the type of player he was. The type who usually played every game like it was game 7 of the Stanley Cup Finals. Where even if you got hit in the wrist while blocking a shot and it ended up being broken, you sucked it up and played the rest of the game like a champ. That's the Kevyn Adams I'll remember! Good luck Kevyn, you will be missed.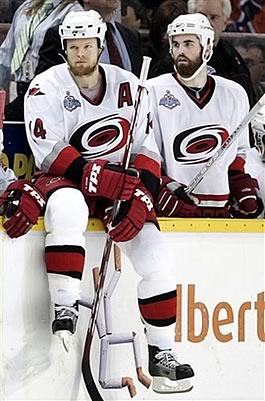 More about Seidenberg and the Canes at Toronto tomorrow.

The Scorpions