The Hurricanes used the hockey version of Muhammad Ali's famous "rope-a-dope" strategy last night. You know, the strategy where you intentionally stand around for 2 periods and let your opponent skate circles around you and out shoot you 31-14 while they take a commanding 3-0 lead. Then in the third period when you know they have spent all their energy, you pour it on and set a record for most goals scored in a period since your franchise moved to North Carolina! Well, either that happened or maybe the team was just in some kind of weird funk again but came alive after their coach screamed and yelled and threw things at them in the dressing room between the 2nd and 3rd periods. You pick whichever scenario you prefer, but the bottom line is that the Canes scored 6 goals in the 3rd period to win the game 6-4! Five of those goals were scored in the first 10 minutes of the period! It really was an outstanding and amazing 10 minutes of hockey, something you rarely see.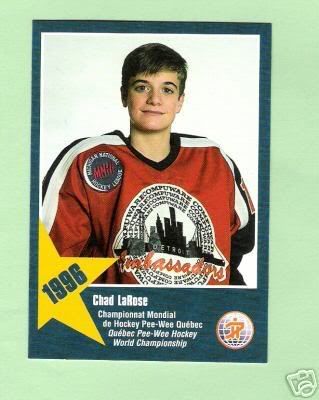 Who was the hero of this valiant comeback and first star of the game? Little Charlie Hustle himself, Chad Larose. Chad opened the scoring with a shot that looked like it went off someone. It fooled Alex Auld and somehow, eventually found it's way into the net. It was a flukey goal but after the countless near misses he has had all season, it certainly was well deserved. After that goal, the wheels fell off for Florida. Rod Brind'Amour found Erik Cole streaking across the blueline and led him beautifully to spring him for an open shot and goal. Scott Walker took the puck from behind the net and stuffed it in on a wrap around attempt. Scottie's reaction was classic as he jumped and danced across the ice in celebration. On a powerplay rush, Cory Stillman took an Andrew Hutchinson pass and redirected it in the goal on a beautiful bing bing play that Auld didn't have a prayer to stop. Then Craig Adams did his best Wayne Gretzky impersonation and scored on a backhand flip over Auld's shoulder. By this point of course, the crowd was going nuts. Ray Whitney closed the scoring on an empty netter with a few clicks of the clock left.
Maybe that 3rd period is just what the doctor ordered for this team. They looked confident. They looked like they regained their swagger from last year. They looked as if that 3-0 deficit was nothing. Most importantly, they looked like they really wanted to win. Laviolette took out Cam Ward, who actually did a nice job keeping the Canes in it. The Panthers had a couple of good chances to go up 4-0, but Ward shut them down. Let's face it, facing 31 shots in 2 periods is not an easy task. In an obvious tactic to fire up the team, Grahame went in the game starting the 3rd, and did a decent job. While he does look shakey between the pipes at times, the thing I like about Grahame is his ability to pass the puck the length of the ice. Our guys don't look like they are ready for the passes, but one of these days he's going to spring someone for an open attempt. He does seem to do that very well.
The Canes had 6 different goal scorers and 11 different point earners, but Eric Staal and Justin Williams were both left off the scoresheet. Neither had their best games, so I look for them both to rebound Saturday night. Of course I can't discuss a Mick McGeough reffed game without a rant. In the first period on a delayed penalty call, Andrew Ladd scored a goal by knocking in a rebound attempt off of Auld's stick. The refs waived off the goal, apparently blowing the play dead because the puck touched Auld's stick constituting a change in possession? Then later in the game during yet another delayed penalty call, Auld made an obvious save where a hard shot bounced way off of his stick, and there was no whistle for change in possession. So what is it? At least be consistent. If there was a different explanation for them blowing the play dead on Ladd's goal, could someone who watched the game on TV let me know? I would love to hear the explanation.
Kudos go to the coach for getting the guys fired up and kudos go to the team for responding. Laviolette was quoted in the paper this morning as still being peeved over the first 40 minutes of the game. But I think the 3rd line was incredible and it would be fantastic to see those results more often. If the team really wants to be successful they need 3 lines who are all capable of scoring. For those of you who are not aware, the Canes put on a nice video after most games which includes the highlights, some crowd shots, and other memorable moments of the game. It's called the "Flavor of the Game" and you can watch this game's by clicking here.
The Thrashers have a tough game to play tonight in New Jersey before they travel to Raleigh for tomorrow night's game. Hopefully they will be spent after that game and the Canes won't have to do their "rope-a-dope" again and can dominate from the opening face-off. We'll have to wait and see. TGIF, and Go Canes!

Electric Light Orchestra