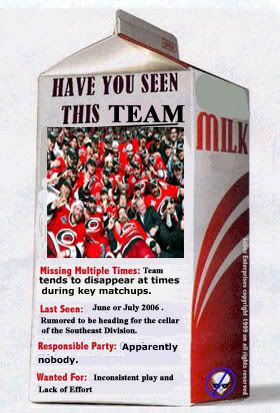 Has anyone seen this team lately? There are a bunch of mysterious strangers at the RBC dressed up in Hurricanes jerseys skating haphazardly around pretending to be 4 million dollar a year professional hockey players! They can't be the same players we watched last year, can they? Consistency, confidence, never say die attitude, relentless effort, and ability to overcome adversity, all of these traits have gone missing in several games.
Venting aside for a moment, the Canes gave it their best shot for at least one period last night. I thought they looked pretty good in the 1st. They had one goal waved off because of an inadvertent whistle. They had several near misses. They also drew a few penalties, but the bottom line is they couldn't score. The power play was abysmal and you can't win in this league without a power play. Much of the 2nd period was like the first. The Canes controlled much of the play. They generated a few chances. They drew another power play but it looked even worse than the earlier ones. Then Brind'Amour was called for high sticking and the wheels came off. About 30 seconds into their power play, Marty St. Louis won a battle behind the boards and got the puck to Ryan Craig who somehow got it up and over John Grahame. 1-0 Lightning, but it might as well have been 10-0.
A couple of minutes later right before the end of the period, "future all star" Doug Janik scored the 2nd goal of his career as he was left skating wide open down the middle of the ice right in front of Grahame. The Canes on the ice must have thought the period was over because he was so open it might as well have been a penalty shot. 2-0 Lightning, and the rout was on. The 3rd period was pretty much a disaster as Vinnie scored 3 minutes in and Marty scored with 10 minutes left. At this point, many fans felt like they had suffered enough and fled for the exits. They didn't miss anything as the Canes made a 1st star out of Holmqvist who got his first career shut out! In the meantime, the Canes are on track to set a record for getting shut out the most times ever in one season. Yep, that even includes the dismal 2002-03 season in which they set a record for lowest goals scored in modern NHL history.
Okay enough negative stuff, let's look at the positives. Yesterday, we received our invoices in the mail for our playoffs tickets! whoo hooo!! I can't wait to rush my payment back off to 1400 Edward Mills Road! Another positive? Well, instead of working on their powerless power play, the team gets to visit with President Bush today. Maybe he has a few suggestions on how to improve their game?
Really, there is some good news. Bret Hedican was reactivated and played last night. I thought he looked pretty good. The team as a whole played well in the first. If they could have scored, who knows what would have happened? Again, things are just a bit off, they are not clicking. If the power play could ever be fixed, this team could easily get back to winning games again. It's just a matter of confidence and perseverance. Finally, I might be sounding a little harsh right now, but I have not given up on the team. Not by a long shot. It's just easier to laugh than to cry at the moment. Hang in there Caniacs, better days are ahead!
(thank you to "east of here" for use of the milk carton.gif)

Alice Cooper