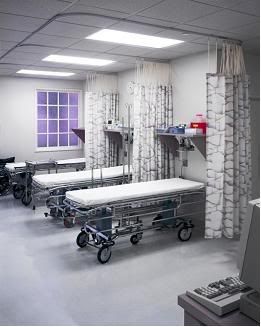 Rumor has it that Pete Karmanos has purchased a wing at Rex Healthcare to house and care for the ailing Carolina Hurricanes. Unfortunately, they are ailing in more ways than one. On the injury front, things are getting worse before they are getting better. Cory Stillman and Erik Cole remain off the radar as far as when they will even skate again, let alone play in a game. Then last night Bret Hedican and Justin Williams both suffered injuries, Hedican another concussion and Williams a mysterious upper body injury. There were a few other players that supposedly were not officially injured but who didn't show up to play the whole game. The power play stunk last night. The penalty kill was even worse. Our heralded and previously hot number one line of Brind'Amour and Whitney managed a whopping 2 shots. Yep, that's one each for Whitney and Brind'Amour for the whole game. If the Canes are going to look at the video from last night, they should review the Ranger's power play and see how one is supposed to work. New York was 3 for 3, and applied almost constant pressure during their advantages.
Some mini rants....
1. Shoot the bloody puck! It drives me crazy to see them skating around in circles or trying to make the perfect pass, then they end up losing the puck and going through a whole power play without a single decent scoring chance. At least if you shoot the puck you have a chance for a score. Sometimes you will get a deflection or lucky bounce. It happens against us enough! Anyway, one shot on goal for each of our leading scorers is not enough.
2. Get someone in front of the net! Cam Ward got a face-full of number 16 last night. After the game, Cam even mentioned that it would be nice if the Canes created some similar traffic on their power play chances.
3. Play with some desperation and passion. Maybe it was just me but it seemed like the boys gave up in the 3rd period. A couple of them may have given up before that. The home fans don't mind a loss, but to get dominated by a team from opening face off to the end is hard to take. If not for some outstanding saves by Cam Ward on several odd man rushes early in the game, this could have been a 7-1 or 8-1 debacle.


I have to give credit to the Rangers. They wanted that game more than the Canes did. Sean Avery was in Cam's crease all night long. They had the Canes on their heels from the get go. This attempt in futility was the 4rth loss in the last 5 home games for Caniacs to have to sit through. Lately, the Hurricanes seem to save their best efforts for road games. Are they upset with the home fans? Is something wrong at the RBC? Did they lose the sense of pride in defending their "home turf"? I don't get it. Laviolette said it best after the game. The passing was bad and it was a sloppy game. The big question is, can they do anything to fix it?
On to happier news, the Peter Forsberg saga is finally over. Mr. "Bionic Ankle" is on his way to Nashville. The Predators gave up a lot, Parent, Upshall, a 1st round pick and 3rd rounder. Is Forsberg worth it? Ask me again in 3 months. If Nashville wins the Cup, you betcha he's worth it! The finalization of this trade should open the flood gates for more trades now because many teams were bidding for Peter's services. They can now move on to their other options. It would seem that with all the injuries, Rutherford is under more pressure than ever to add someone to the Hurricanes. Hopefully, he will get someone who can kill penalties. He traded away Kevyn Adams and Eric Belanger, two dependable penalty killers and replaced them with two players who don't kill them. Hello? Is it just me or is that asking for trouble? The penalty kill sure looked hurt last night when they failed to kill a single Ranger power play.
Hopefully the Canes can right the ship in Montreal on Saturday night. Heaven knows they play better in the Bell Centre than they have played at home recently. Please get well soon Canes!
Van Halen