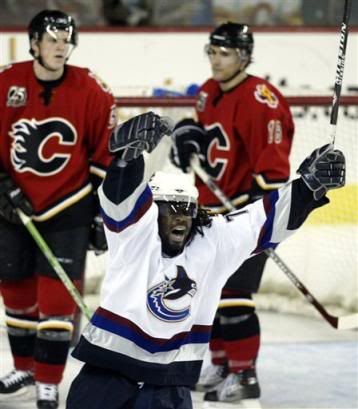 Anson Carter is officially a Carolina Hurricane! In a somewhat surprising move yesterday, Jim Rutherford was able to obtain Carter's services for the rest of the year in exchange for a 5th round draft pick. Not too shabby! After scoring 33 goals and having a career year in 2005-06 while in Vancouver playing on a line with the Sedin twins, he has been a disappointment for the Columbus Blue Jackets this year. He was making a lot of money considering his production, (2.5 million), so apparently Columbus thought it better to let him go now rather than wait until the end of the year. This is another outstanding job by Rutherford, who due to his superior planning at the beginning of the season gave himself plenty of room to operate within the salary cap, unlike other teams such as Buffalo, Tampa Bay, and New Jersey, none of which would have been able to afford to make this deal. I can't see this trade hurting the Canes in any way unless Carter comes into town with a super chip on his shoulder which seems highly unlikely. He is scheduled to negotiate a new contract next year and he needs to do whatever it takes to get his numbers up to a respectable level, so he can make as much money as possible. He has everything to gain himself, with this transaction. Good luck to Anson, we hope you enjoy your stay in Raleigh. Hopefully, Caniacs will be seeing him celebrate with his arms up early and often!!
Tonight the Canes will be playing the Thrashers in Atlanta and will be looking for some redemption for losing the game in Raleigh earlier this week. The Thrashers lost to the Lightning in overtime their last game on Thursday night, so their recent record still is not good. Hopefully the Canes can put some pucks in the net and get something going on their dreadful power play, which is rated near last in the league. Will John Grahame get the nod in goal again tonight? Will Hedberg get the nod for the Thrash? Will Anson Carter make his presence known in his first game as a Hurricane? We will find out shortly!
Those of you with Center Ice will certainly be keeping an eye on the Sabres/Sens rematch tonight as well. Will there be another donnybrook? So many times the next game turns out to be a dud when fans are expecting fireworks after an emotional previous game. Neither team is known as being a particularly tough or dirty team, it wouldn't surprise me at all if they both returned to just playing hockey and put the sordid memories of the past behind them. I am sure that McGratton won't be scratched though just in case!
Have a happy weekend, good luck again Anson, and Go Canes!

The Eagles