Is it asking for the best of both worlds to have a living, breathing, functioning power play as well as a good penalty kill? Apparently it is because the Carolina Hurricanes can't score a power play goal to save their collective lives, yet they are excelling at killing penalties. Yesterday against the Rangers they had over a minute of a 4 on 3 advantage late in the over-time period which could have sealed the deal for them. But it seemed like they missed the net, shot after shot which just baffles and frustrates most fans. How can a professional hockey player making millions of dollars a year not be able to get an open shot on the net with the game on the line like that? I'm not saying he has to score. What I am saying is that you have to force the goalie to make a save in that situation, period. Missing a point blank shot high and wide does nothing to help the team. Forcing the goalie to make a save could create something, like a rebound chance. Maybe there could be a deflection? Maybe the goalie will miss it? At least there is some chance the puck could get into the net, but when you miss the net high and wide there is zero chance of a score. This picture is a perfect example of a wide open close range shot that was high or wide and missed the net. I'm not blaming just one player, several Hurricanes are doing it consistently and I just don't get it. Perhaps there comes a time when players need to stop aiming for the perfect corner, and just keep the puck in play?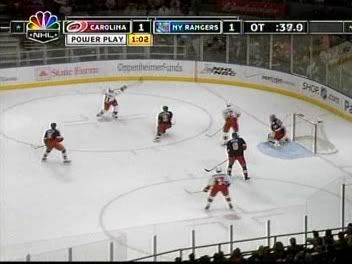 I think every Caniac felt that the Canes would lose that game once it went to a shoot out. The Canes are the only team in the entire league yet to win a game by shoot out this year. They have made an embarrassing 1 out of 17 shots during shoot outs. Needless to say the team misses Matt Cullen in more ways than one, but maybe more so than anything else during the dreaded shoot out. Here is the sniper himself, probably preparing himself for the eventual game winner.

Okay, enough of the ranting for now. I can't complain too much about the effort or desire. I thought the boys skated pretty hard and put forth effort. They still need to do better, though. As with other recent games, they can not find the back of the net. But sometimes it takes more than just trying hard and setting up plays. Sometimes you have to go above and beyond playing hard. You have to do "whatever it takes", and I haven't seen very much of that this year.
Friday night's game against the Capitals was all right. I thought they could have played better considering that Washington has played very poorly recently. The Canes skated with a 1-0 lead for much of the game, then put in another goal in the 3rd before Nic Wallin added an empty netter to make the final, 3-0. Andrew Ladd was the game's first star! Andrew has stepped up his intensity and has played very well lately. Cam Ward picked up his 2nd shut out of the year.
Yesterday's game in New York was a very important game for both teams. It was a tightly checked, high intensity game. It was a game in which the Hurricanes should have had a big advantage. The Rangers had played 3 games in 4 days, and 2 in a row counting the one Sunday. The Canes were coming off several days of rest before Friday night's game in the Nation's Capital. It didn't seem to me like the Rangers were more tired than the Canes though. It was certainly an opportunity that the Hurricanes failed to take advantage of just like the several power play opportunities which were wasted, including the crucial 4 on 3 in over-time. According to the News and Observer, the Canes are 1 out of the past 39 power play chances. I think they left off the Washington game results though, in which they were 0-7. The team was 1 for 35 before that game, so I have them at scoring just 1 time in the past 46 power play chances. Maybe my number is incorrect, but any way you look at it that stat is even more distressing and much more damaging to the team's chances of being successful than the abysmal shoot out performances. It's something that needs to be fixed or there will be no playoffs for the Canes this year. Â
Finally, Cam Ward was injured when Brad Isbister slid into him, cutting Cam's leg just above his knee. It was a deep and dangerous cut which required interior as well as exterior stitches. Wardo played through the injury until play was whistled dead, then skated immediately off the ice to the dressing room. It appears to be an injury that will keep him off the ice for awhile and with just 12 regular season games left, "awhile" could very well mean the rest of the season. We will keep as informed as we can of that situation and of course wish Cam a swift recovery! I think Johnny Grahame has played pretty well of late and I don't think this injury necessarily kills Carolina's playoff chances. As a matter of fact, the Canes could use this as extra inspiration to push even harder to make it into the playoffs so that Cam could play again this year. On the other hand, they could fold like a wet tent. I would like to think it's the former and not the latter. Get well Cam!


Van Halen