Tonight the Carolina Hurricanes return to the RBC to take on the Florida Panthers in yet another game that the Canes really need. If the season ended today, Carolina would be on the outside of the playoff picture looking in, finishing 9th in the East. Obviously, that's not where they want to end up. The key to this game could quite simply be, not to take Florida too lightly. The Panthers have been playing excellent hockey lately having won 6 out of their last 7 games which included wins over Tampa Bay, Atlanta, and Dallas. The Canes will need to keep their focus, maintain their intensity, and find a way to "keep the fire burnin" in order to win this game.
John Grahame will be in goal for the Canes tonight as Cam Ward is recovering from his cut leg. In case you missed it on Sunday, Wardo was injured as Brad Isbister slid skate first into the crease, (with help from Nic Wallin), and sliced Cam's left leg, right above his knee. Here is a snap shot of the nasty incident.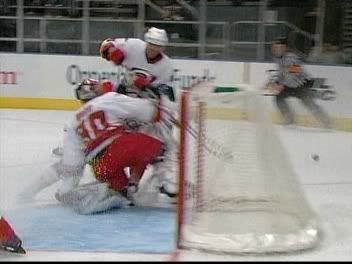 Cam was stitched up and will be out "indefinitely." Craig Kowalski has been called up from the Hurricane's ECHL affiliate, the Florida Everblades, to be the back up while Cam is out. Your guess is as good as mine as to how long that will be! We will be watching and listening and of course will report anything as soon as we learn it. He could be back as soon as 1 week, but it all depends upon how quickly he can heal.

Eddie Belfour will be in net for the Panthers and has played very well of late. Ollie Jokinen has been a Cane-killer his whole career and has scored at least one point in every game against Carolina this year. Nathan Horton is coming into his own and has recently played like a 3rd overall draft pick would be expected to play. Florida has not given up on making the playoffs yet and are only 5 points behind the Canes. On the other side of the ice, the Canes have played well but have gone cold regarding their scoring. They have lost 2 out the last 3, and 4 out the last 6 games. The power play is still "one for forever", but the penalty kill has been awesome. Can Carolina maintain the motivation and intensity needed to pick up the much needed 2 points? Can they finally find the back of the net with any consistency? Can they score on the power play? We will see at the rink tonight! Go Canes!

REO Speedwagon