Saturday afternoon the Hurricanes played the Devils in what could have been the best game of the year so far for the Canes. Martin Brodeur was shown an early exit, the Canes scored a season high 7 goals, and Chad LaRose, the player formerly looked upon solely for an energy boost, got a promotion! On Friday, Coach Laviolette told Chad that he would be seeing some time playing center between Andrew Ladd and Scott Walker. On game day "Rosie" rewarded his coach's decision by scoring 2 goals, including the all important first goal of the game and earned first star honors for the game!
Obviously, Carolina played a great game from start to finish and dominated the listless Devils. The stark contrast between this game and the 3-2 loss on Thursday night was that a few of those "close", near misses from the previous game were finding the back of the net this time around. Also, there were no costly turnovers in the Carolina end this game which gave the Devils some easy chances in the last one. The Canes even scored 2 power play goals and hopefully were able to put those "lack of scoring demons" behind them.
The scoring for the team was very well balanced. As mentioned, LaRose opened things up with a shot that somehow found it's way past Brodeur, just above Marty's skate.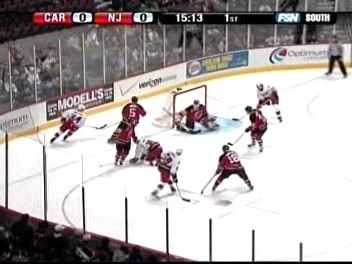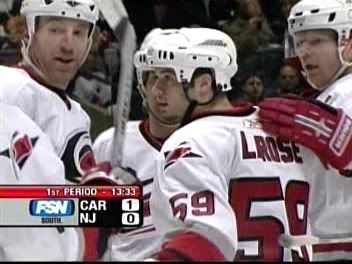 The rest of the 1st period remained 1-0 as the defense held New Jersey to a paltry 4 shots on goal. The 2nd period began much the same as the first, and the Devils could never answer the call. Things got started when Tim Gleason blasted a shot that Joe Vasicek was able to deflect past Brodeur. Then the Canes were able to generate an odd man rush as Brind'Amour fed Ray Whitney for a moving one-timer that Ray slammed over Brodeur's shoulder making the score 3-0. The goal was "The Wizard's" 250th career goal and may have been his prettiest of the bunch. Rod Brind'Amour tipped in goal number 4 off of a shot from Glen Wesley and Martin Brodeur was officially done for the game. Here are a couple of photo's you don't see every day!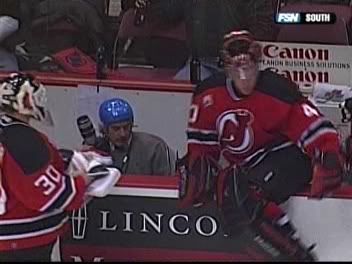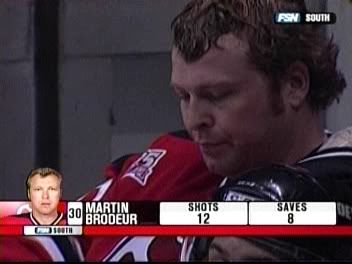 After Clemmensen came in the game, recent call up David Clarkson scored his first NHL career goal making the score 4-1 and gave the poor Devil fans something to cheer about. But the game's number one star answered the bell for the Canes. Chad LaRose skated up the right side of the ice and fired a beautiful shot over Clemmensen's shoulder to put the Canes back up by 4. To Chad's credit, this goal would have been scored against any goalie in the league, it was just a perfect shot. It must have brought back memories of his high scoring days in the juniors.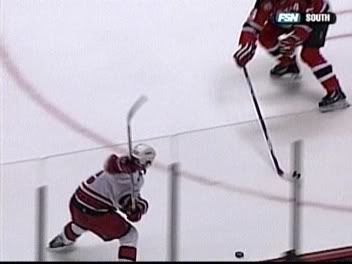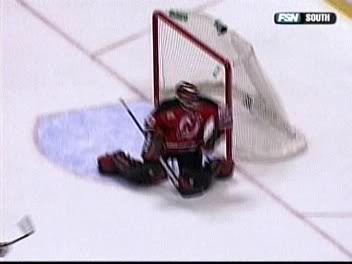 That made the score 5-1. The Canes would add their 2 power play goals in the 3rd period, one scored by Scott Walker and the other by Tim Gleason, but this was to be Chad's day. The Devils would score another meaningless goal before the game was over making the final score 7-2, Canes! This was the 3rd time in the past 2 years that the Canes have shown Martin Brodeur an early exit. In defense of Brodeur though, there was probably nothing he could have done about the 4 goals scored against him. The 1st goal by Rosie had eyes. Whitney's goal was a thing of beauty and the other two goals were deflected in. Still, it is always sweet to see him leave a game early! This game was just what the doctor ordered for Carolina. All of the lines seem to be playing better together and the defense has been extremely tough for several games in a row now. The team just needed to be rewarded for their hard work and that finally happened. Kudos also go to John Grahame, who though he was not pressured much, stayed alert and stopped the shots when he needed to.
There is good news on the injury front. Recently called up reserve Craig Kowalski was sent back to Florida meaning that Cam Ward's knee must be healing up nicely! The Canes are off until Thursday night and won't return to practice until Tuesday. That gives Cam plenty of time to get into game shape, although Grahame has played well enough to stay where he is, for now. We'll have to see how that works itself out. There is nothing new to report about Bret Hedican's injury, but I would hesitate to mess with the defense right now anyway. I think this is the best stretch of hockey that they have played as a unit, all year long.
The move to put LaRose with Walker and Ladd was an interesting one. I was thinking to myself during Thursday night's game that Vasicek just didn't seem to click with those two. I was wondering how Letowski would look centering that line, but that's why Laviolette is where he is, coaching a Stanley Cup Champion, and I'm where I am, thinking to myself. We'll see if Chad can keep producing in some way, I hope he can! Vasicek responded in a positive way to his demotion with a 3 point game, 1 goal and 2 assists. I wouldn't consider him to be a prototypical 4rth liner, a grinding energy player, but he can bring some positives to the ice and hopefully can find some time to accomplish that. The only other thing to note was that Anson Carter and Trevor Letowski traded places from press box to 4rth line. Carter played all right, but didn't seem to bring anything more to the table than Trevor can bring, in my opinion.

Again, congratulations Chad Larose, the number one star of the game. Hopefully he has many more to come!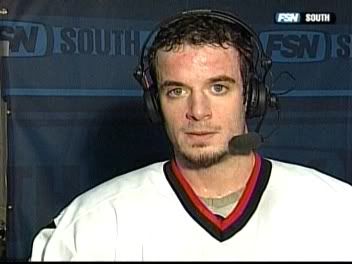 AC DC