Thank you Eddie the Eagle!
Panther's goalie Eddie Belfour, who was upset about a hooking call on team mate Bryan Allen, showed the refs his impersonation of what he thought was Hurricane diving and was promptly called for unsportsmanlike conduct. The additional penalty gave the Canes a 5 on 3 advantage in OT and virtually gave the Canes the game.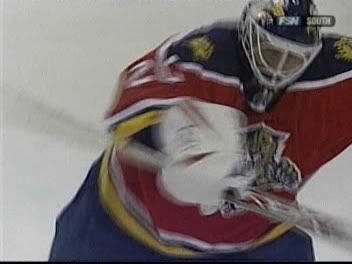 The move by Belfour was pretty comical and added to the already lengthy routine of somewhat weird behavior by the 41 year old goalie. Power play or not though, the Hurricanes still had to find a way to put the puck in the net which hasn't been easy for them all season. After moving the puck around a bit, "The Wizard", Ray Whitney was able to put back a rebound and also put an end to the untimely 3 game losing streak of the Canes.
The game didn't start out well and I have to admit that by time the 3rd period was about half way over, I had pretty much given up hope on winning this game. But obviously the Hurricanes didn't give up! After falling behind 2-0 in the first, David Tanabe rifled a shot past Belfour from just inside the blue line making it 2-1 early in the 2nd. Florida was able to score another goal though making it 3-1 until there was about 7 and a half minutes left in the game. Carolina had just taken their second penalty in a row which seemed like it would seal their fate, but Rod Brind'Amour, with help from Williams and Commodore, scored a shortie to make it 3-2. The goal was like an adrenaline shot for the rest of the team because after that play, they kept constant pressure in the Florida zone until Chad LaRose tipped in a Cory Stillman shot which tied the game. Once the game went into over time, Staal was hooked, Belfour threw his tantrum, and the rest is history.
Apparently the Panther's tantrums lasted longer than game time as some of them were quoted complaining about Carolina "diving" in the locker room after the game. It's not the first time this has happened, so it's not surprising. The Hurricanes beat the Panthers the last time they were in Florida using a 4 on 3 advantage in over time and they were whining about that too. In my opinion, they don't have much to complain about. In the 3rd period, Mike Van Ryn complained bitterly about a holding call where he literally tackled a Cane in front of Belfour. Does this not look like a tackle?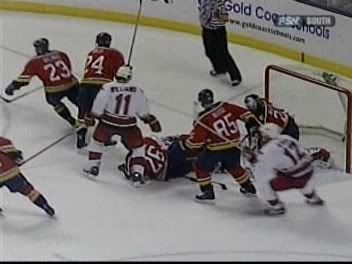 Yep, that's Van Ryn, laying on top of the Hurricane in the crease. Here is a shot of the Staal "dive"...
Take a look at Allen's stick. In the next frame, Eric skates into the stick, twists, and is taken down. It looks like a penalty to me and Staal confirmed that by saying Allen's stick took him out and it was a proper call. In any event, the win keeps Carolina's slim play off hopes alive, playoff hopes that will be crushed by the Panthers on Saturday night, according to Olli Jokinen. After the game, "The Joke Man" was quoted as saying "We have to make sure they don't make the playoffs. We have to get 2 points out of there. This team has stolen so many points from us, we have to win that game and make sure they don't go anywhere. I'd rather see Tampa and Atlanta make it than this team". Sour grapes huh? Want some whine with that cheese Olli? If the Canes are still in the running to make the playoffs on Saturday night, it could be a very interesting game in more ways than one!
In other news, Tim Gleason broke his finger blocking a shot yesterday and is likely out the rest of the regular season. Glen Wesley is still day to day and of course Bret Hedican is out. Who said that having 10 defensemen was having a few too many? It will be interesting to see who suits up for the Canes defense in Tampa tomorrow night. Will Anton Babchuk make a return? More speculation later, have a great Monday!

Dio