In contrast to the geriatric team that they sent to the Olympics last year, Team USA will be sending a bunch of kids to the World Championships next week. As I mentioned in an earlier post, Erik Cole, Chad LaRose, and John Grahame will be representing the Hurricanes on the team. They will be joined by Phil Kessel, Jack Johnson, and a host of other youngsters. For more information including the schedule, you can check out this link, IIHF World Championships.
Speaking of Jack Johnson, while being interviewed by Adam Gold on 850 the Buzz yesterday, Jim Rutherford was asked if he had any regrets about trading JJ. Rutherford didn't mince any words when he replied that he would much rather have Tim Gleason, regardless how much more offensive upside that Johnson might have. Rutherford said that they met with Johnson and his family on 3 different occasions, once with Coach Laviolette, once with Rutherford, and once with Peter Karmanos himself. Each time they were told that JJ wanted to stay in college and were given no time table of when he would leave. But now that Johnson has left college early, it just shows the type of person that he is and Rutherford says that he isn't interested in that kind of player. JR also said that even though Johnson might end up being better than Gleason, Tim is a team first type of player, a player you can win championships with. They prefer to have a player like Gleason on the Hurricanes. Those are strong words from Jim Rutherford!
I watched the Islanders/Sabres game last night. The Islanders are doing pretty well in the series even though they are down 2-1, but were not strong enough to keep the Sabres out of their zone most of the 3rd period yesterday. While being outshot 17-2 in the period, they also ended up taking some costly penalties. The last penalty issued with less than 2 minutes left in the game against Randy Robitaille was absolute garbage though. Showing their obvious displeasure with the call, the Islander fans covered the ice surface with garbage of their own. Lindy Ruff better never complain about another team diving again. Take a look at the picture and judge for yourself. Even if Robitaille does somehow touch him with a stick, it didn't warrant the vivid flop and kicking motion by Toni Lydman. Besides, how do you make a call like that with less than 2 minutes in the game? It's inexcusable.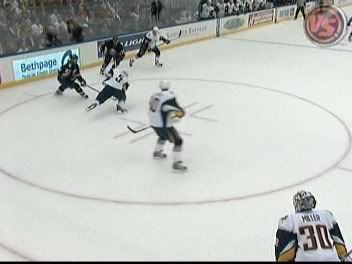 Finally on a sad note, just a few words about the tragedy in Blacksburg, Virginia yesterday. As a father of a college age son myself, I can't imagine the pain the families of the victims must be feeling. Events like that are beyond comprehension.


David Bowie