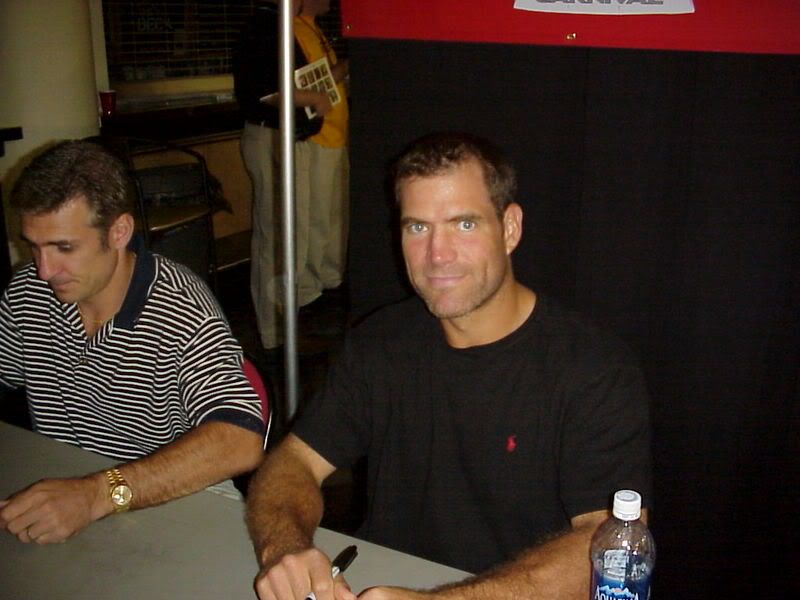 Ex-Hurricane and current Islander, Sean Hill was shockingly suspended yesterday for the next 20 games for use of a banned performance enhancing substance. Since the Islanders were just eliminated from the playoffs last night, the unpaid suspension will carry forward to next year. The following is taken from Luke DeCock and Lord Stanley's Blog:

Former Hurricanes defenseman Sean Hill was slapped with a 20-game suspension today for a violation of the NHL's policy banning performance-enhancing substances.Wow.Talk about a distraction as the New York Islanders try to stay alive tonight, down 3-1 to the Buffalo Sabres."It's been a few years since he's been with us, I suppose, but I had not seen any indications of that," Hurricanes general manager Jim Rutherford said Friday afternoon.According to articles 47.6 and 47.7 of the league's labor agreement, no testing is scheduled during the postseason, so this must have been the result of one of the two specified random regular-season tests, and the 20-game suspension is the penalty for a first offense.Bob McKenzie at TSN has more. There's also a video clip of an interview with NHL deputy commissioner Bill Daly on the web site.Hill, 37, is the first player to be suspended for a violation of the policy, although goalie Jose Theodore was flagged for his use of the hair drug Propecia last season and Bryan Berard was suspended from international play for two years after failing a pre-Olympic drug test last year.The NHL's list of banned substances comes from WADA, the World Anti-Doping Agency, and does not include stimulants like Sudafed.
The next suspension would be for 60 days and a third would be indefinite. This is serious stuff and could be career ending for Hill. According to Bob McKenzie, today's action was taken after an appeal by Hill was over-ruled. McKenzie also said that this is the first failed test out of about 2,800 tests which had been given over the past 2 years. I've always been a huge Sean Hill fan and the picture above was taken during a season ticket holder event in 2002 or 2003. He's sitting with his buddy, Ron Francis. Hill's game had been slipping the past few years, but he made a nice comeback this year on the Island and looked pretty good. Perhaps this explains why. As Luke states, this certainly didn't help the Islanders chances who were on the brink of elimination only to find out that Hill couldn't play at the 11th hour. Oh well, best of luck to Sean.
In other news, it was reported that Ray Whitney would undergo shoulder surgery next week to take care of a problem that has been bothering him since the 2006 Cup run. No, I am not joking! Jim Rutherford said that the surgery was similar to what Frank Kaberle and Cory Stillman had this year, but it was expected that Ray would be ready for training camp in the fall and would not miss any regular season games. Hello? The man just had a career season while playing with a bad shoulder? Maybe he should try playing with it again next year! Call me skeptical, but somehow I don't believe that Ray will be ready for camp. If Kaberle's and Stillman's surgery took about 6 months of recovery time, why should this be different? He will start the year out of sync because of the surgery and will probably end up having a series of groin pulls. I'll go out on the limb and predict he will not be able to match his career numbers again next year. Anyone out there want to take that bet? I know, I know, I'm cranky today.
The playoffs have officially ended for several teams. The Thrashers were skunked, 4-0 by the Rangers. Bob Hartley's "strategery" of playing musical goalies certainly didn't help them. I'm sorry, but unlike the Islanders who gave it their all and showed all kinds of heart, especially in the final, gutwrenching minutes of the past 2 losses, the Thrashers seemed to just go through the motions. Although they did have a few half-hearted attempts of fighting Sean Avery, I wouldn't call that heart or grit. I must admit, it doesn't break my heart to see Hartley, Tkachuk, Belanger, Exelby, Sutton, and Mellanby hit the links. It's too bad for the fans though and too bad they lost all those draft picks for nothing. The Islanders were also eliminated of course. They gave it a good try, but those Sabres were too tough. Ottawa set aside the pesky Penguins which didn't surprise me. We are still waiting on the Tampa Bay and New Jersey series to see what the next pairings will be in the East. Last night, the Sharks put away the Preds on their home ice. I wonder if this disappointing playoff run and series will end up killing NHL hockey in Nashville? It seemed like they really needed a huge run over there to jack up the fan and corporate support, but hopefully everyone shows up again next year. With their talented youth, the Predators should certainly be a very good hockey team for years to come. Forsberg didn't help them as much as they needed, and while he didn't look horrible I still think Vokoun has seen better days. Mason is under-rated and the Preds won a lot of games with him in net this year. He actually has a better GAA and save percentage than Vokoun does. Could they have done better with Mason in goal? Whatever, it doesn't matter now. One thing for sure, the Sharks look tough, very tough. Anaheim looked good while easily putting away Minnesota. The Nucks and Stars and the Wings and Flames are still battling. Go Flames Go!
Have a good weekend!

Chicago