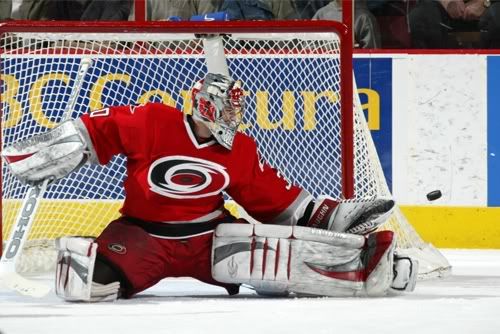 Everyone is happy today! Cam Ward, the Carolina Hurricanes first and only Conn Smythe award winner, was rewarded yesterday with a 3 year, 8 million dollar contract. Of course everyone knew that the Canes would eventually be signing the restricted free agent, the only question was for how much. The answer is that he signed for exactly the amount that Ryan Miller got from Buffalo last year. He'll get 2 million in year one, 2.5 in year two, and 3.5 in year three. Do they have the same agent or what? Lord Stanley's Blog has a little bit more to say about that this morning. Some Caniacs seem a bit concerned about the pay in the 3rd year of the contract. In my opinion, that 3.5 million will seem like a bargain by time we get to 2010.
Cam Ward has excelled at every level he has ever played. While in the juniors, he won goaltender of the year honors twice in the WHL, once for the entire CHL. While in the AHL for just one year, he set a record both for wins and shutouts for Lowell and had the best save percentage in the entire league. Of course, he has won the Stanley Cup, the Conn Smythe, and a gold medal for Team Canada so far in his short NHL career. You don't earn these types of consistent achievements by luck or accident. While he struggled at times last year, there's no doubt in my mind that he will improve and return to his former performance level. According to interviews yesterday, he's already working hard to do just that. He and his wife are staying in the area for the summer instead of returning home, and Cam is working out everyday with Pete Friesen at the RBC. That's the type of commitment and work ethic that breeds success, and that's one reason he has had the success that he's had. Cam also stated that they love the area and want to stay here for a very long time. The feeling is mutual, "Wardo"! Here's a player who always makes time for fans, gives back to the community in many ways, and contributes to the Special Olympics. He even takes time to speak to church youth groups. Is 3.5 million too much for that third year? I think not!
It's also been reported that Glen Wesley was offered a contract. The amount was for a slight raise over the 1.2 million that he signed for last year. It's seems more and more like the blueline will be looking almost exactly the same as it did toward the end of last year. That's a scary thought unless everyone picks up their respective games. Of course Hedican is the wildcard in all of this, but only he and his hairdresser know for sure what his plans are for next year. Until I hear otherwise, I'm assuming he'll be on the roster, bad hip or not. I'll talk more about this next week after the appointment with his physician. The worst thing about this for Rutherford and the Canes is that in my opinion, no one will have a clue whether or not Hedican can play until well after July 1st, which means all the decent free agents will have come and gone. Unless the physician says it's impossible to play on that hip, Brett will need to wait until training camp to see what happens. All we can do is hope for the best. That's it for today, TGIF!

The Rolling Stones
>>>UPDATE>>>
Another happy camper today! Glen Wesley just signed for 1.4 million. Details here.