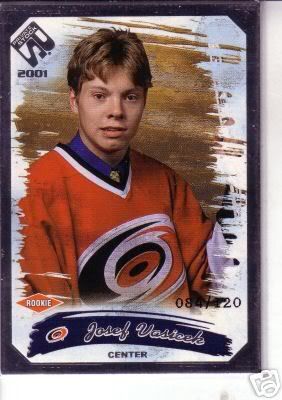 Ex-Hurricane Joe Vasicek was signed earlier today by the New York Islanders. I'll always have a softspot for that floppy haired, goofy looking kid, but I'm happy to see him on the Island rather than here in Carolina. He's as maddeningly inconsistent as they come, but the most optimistic of us can always hope that he will finally find his game and put together a full, productive year. (just not against the Canes!)Â Good luck Josef!
Recently, I re-named a couple of past posts (All us Boys parts 1 and 3). I hope I didn't confuse anyone. After it was posted, it just seemed more logical to read the report from top to bottom, rather than from bottom to top which is the typical blog format. I'll have to do a better job of organizing the next time I try to break up a long post into several parts. Sorry about that.
There are plenty of rumors circulating around the various rumor sites. One of the more recent ones has Aaron Ward returning to Carolina. While Aaron would probably love that as would many fans, I just can't see it happening. The Canes are over-budget now, there is no way they would break the bank to re-acquire Ward. The only way I could see this even possibly happening is if Bret Hedican couldn't play and retired, (freeing up over 2M in salary), or if there was a major trade involving another highly paid Hurricane. At this point, I don't see either of those possibilities happening. Even if the Canes traded away some "excess baggage", (Seidenberg and Letowski), Ward's salary is still too high over the both of theirs combined. Sorry, Aaron Ward fans, it ain't gonna happen! At least it's fun to think about, though. That's all I've got for today, have a good one.

Rednex