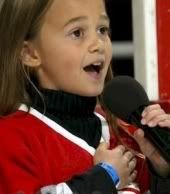 10/1/07 - Katherine is now the full-time anthem singer for the Hurricanes. We wish her the best of luck throughout the coming season!
3/8/07 - Update 6
Today we found out that Katherine didn't win the Early Show's "Living Room Live" competition. Opera singer Madeline Edwards won, from Goldsboro, NC. Congratulations to Madeline for winning and also to Katherine for making it this far! We look forward to hearing Katherine sing again for the Hurricanes really soon.
3/4/07 - Update 5
Katherine sang again for Carolina on Friday, March 2nd against the Pittsburgh Penguins. The Hurricanes won a very tight contest which makes their record now 6-1 when she sings. It was another stirring performance by KK!
This week her video will be featured again along with 2 other finalists on the Early Show's "Living Room Live, Kid's Edition" talent contest. The competition gets tougher each time and it is sure to be closer than ever this week since it is the final week. You can click on the link on the right of this page to see her video and vote. The winner gets to travel to New York and perform live on the show! Good luck Katherine!
3/1/07 - Update 4
This was another big week for Katherine! Not only was her video up for nomination again on "Living Room Live", she was called upon to sing for the Hurricanes on Tuesday night, February 27th. She did another great job, singing an inspiring "Oh Canada" as well as the "National Anthem". The Hurricanes ended up losing to Ottawa later that night which broke their undefeated streak when she sings for them, but her personal winning streak continued as her video once again captured the most votes!! She will move on to the finals next week. The winner gets to sing live, in person on the Early Show. Good luck KK, all the Caniacs are behind you!
You can vote for Katherine by clicking the "Living Room Live" link on the top right of the page. The voting is open from Monday, March 5th to Wednesday, March 7th at noon. I was fortunate enough to meet Katherine and her family a couple of weeks ago and she asked me to thank everyone for their support. Thank you Caniacs and to all the other fans who have visited this site and voted!
2/26/07 - Update 3
Katherine's video is up again for nomination this week in the "Finalist's Round 3" of the CBS Early Show's "Living Room Live, Kid's Edition." Just scroll down this page to view the link and click on that to redirect to the website. You can vote for her from Monday, February 26th to noon on Wednesday, February 28th. The winner will be announced on the show Thursday morning , March 1st and will advance to later rounds. Good luck Katherine!!

2/14/07 - Update 2
Katherine sang before the Kings/Canes game last night and did another wonderful job. The Canes won, 2-1 which keeps their streak alive! The Hurricanes are now 5-0 when KK sings the anthem.
2/10/07- Update 1
Congratulations to Katherine! KK won this week's competition with 74% of the vote. She will be competing again in 3 weeks in the third finalists' round. At that time I will put another link at the top of the main page to make it easier to view the videos and vote. In the meantime, Katherine will be singing the anthem again at the Hurricane's game on Tuesday, February 13th against Los Angeles. We will keep our fingers crossed and hope the winning streak stays alive!
2/2/07
Fellow Carolina Hurricanes fan and part-time anthem singer Katherine Fritsch is quickly becoming a celebrity! The 8 year old is not only garnering attention and praise every time she sings before games at the RBC, she is now in the national spotlight. This week an excerpt of a video of her singing the "National Anthem" will be played on The Early Show, on CBS. She is entered in the "Living Room Live, Kid's Edition" national contest. Her video, along with 2 others this week will be listed on The Early Show website and people will be able to vote for their favorites. Here is a link to that website: The Early Show Living Room - Live. The winner this week will move on to the next round.
Katherine first sang the anthem for the Canes early in the year against Tampa Bay. Since then she has sung 3 more times including before a game against the Montreal Canadiens when she had to sing "Oh Canada" as well as the "National Anthem". She's done such a remarkable job each time that many fans look forward to hearing her sing again. A Montreal journalist was so taken by her that he wrote this about her in his column.
Little Girl with big voice helps Canes beat Habs
It seems that Katherine Fritsch is becoming to the Carolina Hurricanes what Kate Smith was to the 1970s Philadelphia Flyers " if roughly one-tenth the size. The big pipes of 8-year-old Katherine, who sang both national anthems tonight, is becoming a bit of a good-luck charm for the ˜Canes, who beat the Canadiens 4-2.
Earlier this season, Katherine sang the anthem for the ˜Canes against Tampa Bay, and the home team beat the Lightning by scoring a franchise-record three goals in 43 seconds. Tonight: two second-period goals in 46 seconds to beat the Habs¦ Didn't this kid have homework to do?
The link to that article is here:
Yes, maybe she is turning into a "Kate Smith" for the Canes. The Canes have a record of 4-0 so far when she sings! Here is a picture of her and a video of a prior performance:

Canes Country is a site not only about the Hurricanes, but also about their fans and anything else related to the team. We will continue to trace Katherine's progress and will continue to update this page with any news or events that we find out about. Good luck Katherine!