There are still a few good hockey players out there without a home. With NHL training camps opening next week, one might think that it's getting a bit late in the game to still be out there posturing and negotiating. Maybe these guys are at the point where they should be looking at any and all offers? There are some recognizable names on the list including ex-Hurricanes Jeff O'Neill, Sean Burke, Danny Markov, Anson Carter, and David Tanabe. It wouldn't surprise me to see O'Neill and Burke retire, but I'm sure that Tanabe wants another job badly. According to John Forslund's blog, he expects that Tanabe will end up with another team in the division. That would be weird. Of course, Markov is still threatening to play in Russia and who knows what's going on with Carter. My guess is that he will eventually end up in Vancouver, but for a lot less money than he anticipated. Here's a listing of some of the players yet to sign with anyone this year as presented by Hockeybuzz.com: Peter Forsberg, Teemu Selanne, Danny Markov, David Tanabe, Jeff O'Neill, Mike Johnson, Brent Sopel, Jason Allison, Sean Burke, Robert Esche, Jeff Friesen, Tony Amonte, Eric Lindros, Darren McCarty, Curtis Joseph, and Jason York. A few of these guys are pretty much washed up, but I thought the same thing about Roenick and he found a home. It will be interesting to see who ends up getting left out in the cold.
Luke DeCock's blog was active again yesterday. At first he had a little blurb about Brandon Sutter's performance in the recent tournament against Russia. There has been a lot of buzz about Sutter's high hit which knocked Russian star Alexei Cherepanov out of the tournament, but that was last week's news. It will be fun to watch this kid in camp next week! Then Luke went on to report that the Canes will be officially unveiling their new jersey on Thursday of this week! This is huge news since it was previously believed that no one would be able to see the jersey until the Caniac Carnival on the 16th. I wish I had an invitation to attend that press conference! But such is the life of a lowly blogger. We'll just have to wait and see if any of the "legitimate" news sources report anything. I will post a picture as soon as one is available.
Finally, I received another recent email from a friend of the blog who informed me that a friend of a friend of his did a tattoo for Mike Commodore. He was nice enough to send along a picture of it and gave me permission to post and share it with the rest of you. I'm not an expert on tattoos, but it seems like fine artwork to me. It looks like Commie will have a lasting memory of his Cup run with the Canes which he can glance at anytime he wants to. Awesome!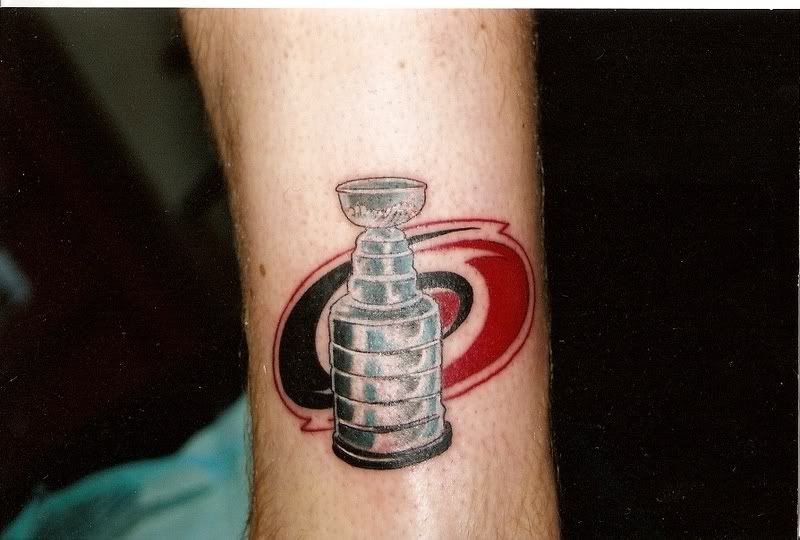 The Rolling Stones