A couple of weeks ago I posted news about the Storm Squad tryouts, (Clap your Hands), and that quite a few girls would be needed to replace some of the long time regulars who are leaving. One of those "retirees" is Holly Wilver, who also doubled as the Hurricanes primary singer of the "National Anthem". So, who will the Canes get to replace Holly? A friend of the blog confirmed that Holly's replacement will be none other than Katherine Fritsch, the young phenom who sang several times last year as a stand in for Holly. Last year, Katherine stunned crowds with her strong and beautiful voice. CanesCountry jumped on the "KK" bandwagon the first time we heard her sing, and we are still huge fans. Katherine soon turned into a celebrity after making it to the finals of the CBS Early Show's, "Living Room Live" competition. For more information about that and some of her previous performances, check out the CanesCountry "Katherine Fritsch" page (always found on the left side bar of this blog). The page also has a link to a video of one of her performances.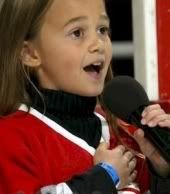 I'm informed that Katherine hasn't exactly taken the summer off! "KK" performed for the Durham Bulls, Carolina Mudcats, Carolina Railhawks, US Kids World Golf Championship in Pinehurst, the North Education Ball, the North Carolina Special Olympics, the American Cancer Society's Relay for Life, and performed in the North Carolina Theater's production of "Chess". She is also scheduled to sing this weekend for the ALS Walk/Fun Run at NC State's Centennial Campus. In upcoming events she will open for Chris Daughtry at the North Carolina State Fair and will perform at the 2007 NCAA Division 1 Mens College Cup at SAS Stadium in December. It sounds like the Carolina Hurricanes will be getting a seasoned veteran with this 9 year old sensation! Good luck to Katherine and hopefully the Canes will keep winning most times when she sings!
As I mentioned yesterday, the new Canes jersey was finally released yesterday. The only major change was some added striping around the shoulders. Personally, I think the new jersey looks fine and I'm especially happy that they didn't mess with the logo. Jim Rutherford was quoted as saying that he wanted to stick with tradition. Good choice JR! The players at the press conference seemed to like the design as well. "I like the fact we didn't get too far away from the traditional look that we've always had", Erik Cole said. The team's new 10th Anniversary logo was released as well, which also looks good. This year's slogan, "Our Team, Our Tradition" seems a bit hokey, but I've never been a big fan of the team's slogans since they used "This is Hockey" the year they came in last place in the league.
The Canes number one draft choice this year, Brandon Sutter continues to get a lot of press. He seems to have impressed everyone in the summer's "Super Series" with the Russians and has been continually praised as being one of the best players for team Canada. There have been several articles about him, but there was one posted yesterday on TSN which interested me. Wouldn't it be nice if the kid made it tough for the coaching staff to cut him this training camp? I have no idea where they would put him since they already have 13 solid forwards now, but in my opinion it's always a good thing to have talented youth pushing veterans. It keeps everyone on their toes! By the way, in the article he says he's "perfect with Carolina". Isn't that great to hear! Too bad Jack Johnson never used those words.
Finally, the Anaheim Ducks called a huge press conference yesterday just for Scott Neidermayer to announce that he hadn't made up his mind yet about retirement! *L* What a hoot! Is this guy an attention hound or just indecisive? I realize that he is a great player and a future hall of famer, but why call a press conference to announce nothing? TGIF!

INXS