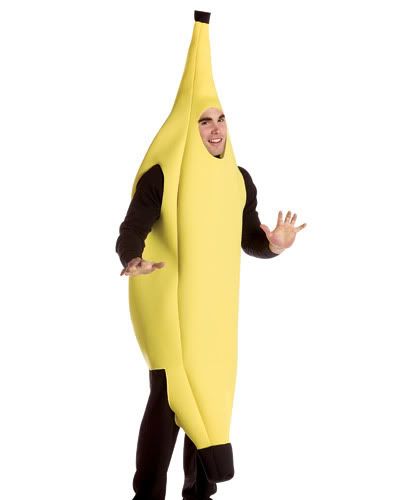 The Buffalo "Bananas" are in town and will be donning their new jerseys (see above) tonight when they take on the Carolina Hurricanes in a rematch of the 2005-06 Eastern Conference Finals. So far this season, the Slugs have a record of 3-4 and are currently in last place in the Northeast Division. They have yet to win a single game on the road, (0-2), so let's hope they don't break that streak against the Canes tonight! Just in case any of you weren't paying attention this offseason, Buffalo lost their two co-captains and best players of last year to free agency. Daniel Briere is now playing for the Flyers and of course Chris Drury is on the Rangers. Their leading scorer right now is defenseman Brian Campbell who has 10 points. That's right Caniacs, there are some defensemen out there who actually score! The highest paid player on the team, Thomas Vanek, (who is cashing 10 million dollars of paychecks this year), currently has a whopping 5 points. That doesn't sound like a good value, does it? Not when Justin Williams and Rod Brind'Amour, who have 11 points each, are making less put together than what Vanek will average over the life of his 7 year contract. (7.1M) You might want to label that "mismanagement of epic proportions". Jim Rutherford has made a few mistakes in his career as general manager, but at least he always seems to be able to get the franchise's RFA's under contract before other teams have the capability to offer outrageous offer sheets. Hopefully, JR can continue his trend and Buffalo's management continues with their bungling.
Sabres fans will be happy to hear that the Canes are a bit injury struck at the moment and will be missing some important players. Erik Cole is still out along with Scott Walker, who is now officially on the injured reserve list. (Cole might be able to play Friday night.) Andrew Ladd is still fighting his sprained ankle and is unavailable. Dennis Seidenberg is nursing a sore knee and will also be in the pressbox. More importantly though, Cam Ward will be in net. "Wardo" has a record of 5-0-2, a GAA of 1.83, and a save percentage of .937. Not too shabby! The Albany dudes, Keith Aucoin and Ryan Bayda will be filling in as needed again tonight. I expect that the Canes will use the same lineup they did on Monday night against the Canucks. Obviously, Carolina has been on a roll and has played very well most of this season. Their powerplay percentage is ranked among the league leaders. They need to continue this because while Buffalo has lost their star forwards and has started off a bit slowly, they are still a very dangerous team. Ryan Miller is always decent between the pipes and the rest of the team is all capable of lighting the lamp regularly. Plus, you just know that Linda Ruff will have them all fired up and ready to go. Perhaps he'll use the old "they have champagne on ice in their locker room" lie. Ruff has more tricks up his sleeve than David Copperfield, so who knows what he will tell them. In any event, you know they will be ready. For a Buffalo perspective, you can check Sabre Rattling, Bleeding Blue and Gold, or Bfloblog. This game should be another good one!
I'll post more at lunchtime if there is anything new to report.

Blink 182