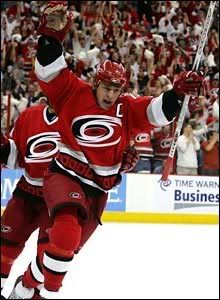 Carolina Hurricanes captain, Rod Brind'Amour is doing everything in his power to help take the Canes to the top again this year. Yesterday, Brind'Amour was named 2nd Star of the week by the NHL! "Brindy" led the entire NHL in scoring for the week with 9 points, including a hat-trick against the Islanders on Saturday night. Rod has scored in 9 consecutive games and is presently 3rd in the NHL with 18 points. Not too bad for a player who has won the Selke Trophy the past 2 years and who is considered by many to be the best defensive forward in the league. Yesterday, he was the NHLPA's featured player of the day and he's been the topic of several articles all over the hockey news world recently. Year after year, he's also one of the top faceoff men in the league. Is there anything the guy can't do on the ice?
In other news, it's nice to see that Lightning coach John Tortorella has stopped throwing his goalie under the bus after a disappointing loss. Remember the good old "25%" rule? Well, now he's resorting to throwing everyone BUT the goalie under the bus.  New strategy for the coach perhaps? This quote, from the Tampa Tribune: After the game, Lightning coach John Tortorella didn't hide his frustration with his team's play in an expletive-laden, two-answer session with the media. "It's very frustrating to see one guy show up tonight and play, and that's our goalie. That's it." Keep up the great coaching Torts! It's nice to see things haven't changed much in Tampa. I wonder who will get the blame after the next loss, the water boy?
Remember last week we mentioned that Carolina goalie prospect Daniel Manzato was being loaned to the Charlotte Checkers? Manzato won his first start for the team, helping the Checkers win their first road game of the season, 5-2 over Columbia. The over-crowded goalie situation has finally worked it's way out for the franchise. Of course, Michael Leighton is in first chair in Albany followed by Kevin Nastiuk, another goalie loaned out last year. Once highly regarded, Justin Peters has been assigned to the Florida Everblades. At least everyone is getting a chance to play. We will keep watch and see if there are any changes throughout the year.

Motley Crue