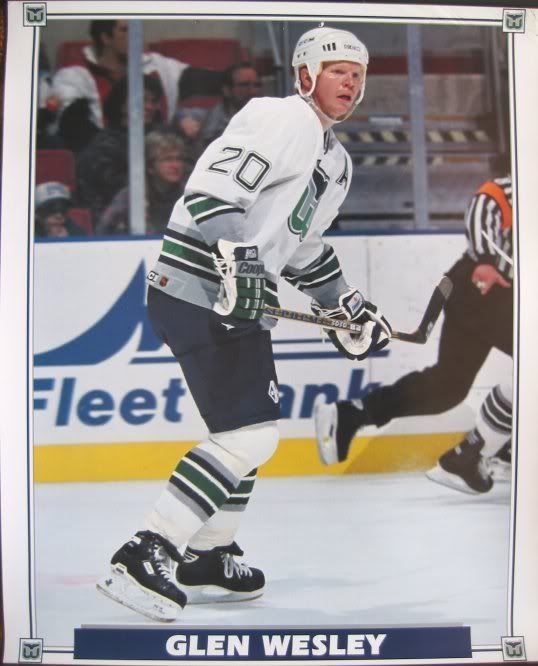 The "old man" of the team, Glen Wesley reached another milestone on Saturday night as he played in his 1400th career NHL game! Only 9 other defensemen in NHL history have ever achieved that. If he can play the majority of games the rest of the year he could eventually move up to number 6 on the exclusive list, moving past Tim Horton who is at 1446 games. Wesley is the last remaining active player of the original Hartford Whalers team that moved to Carolina 10 years ago. Congratulations to Glen!
Another player set a significant record on that same night, as young Eric Staal played in his 193rd consecutive game! Ron Francis previously held the franchise record for consecutive games played at 192. Hopefully Eric is on his way to topping several other of "the Franchise's" records as well. Nice job Eric!
In the meantime, there's a hockey game to talk about! I'm a little bit late with my follow-up, but I thought that it was a very good game played with much more intensity and focus than the previous night against Atlanta. Rod Brind'Amour opened the scoring with a beautiful shot on a powerplay goal in the 1st period. The pass came from Cory Stillman behind the net. I felt like the Canes dictated play in the game for the most part, as they had more scoring chances and shots on goal than the Panthers did. The score stayed 1-0 until the 3rd period when the puck bounced off of Brind'Amour's skate during a scrum in front of the Florida net, and Rod scored another "Carolina Hurricanes Goal!" There was a little tension at this point though as referee Tom Kowal originally waived it off, but the video review reversed the on ice mistake and the goal was put on the board. What's kind of funny about this is that Ollie Jokinen argued with the ref about the reversal. What's the ref supposed to do, over-rule the video judge? It's kind of pointless to argue with the ref about something that he has no control over, but that's typical Jokinen and typical Florida Panthers. Instead of taking care of business themselves, they would rather bitch and moan.
At least they can't complain about Carolina diving in that game. The Canes had 6 penalties called on them while the Panthers only had 3 for the whole game. (that must be a record for them!) The Canes also took 3 penalties in the 3rd period and Florida squandered a prolonged 5 on 3 opportunity. Maybe instead of whining about referees, they should practice their powerplay? By the way, Eric Staal played a portion of the penalty kill on the 5 on 3 and did a great job. I would like to see him on the PK unit more often because I think that would give the Canes more of an opportunity for a shortie. Florida did manage to score a goal on what looked like it should have been an easy stop for Wardo. Apparently the puck hit Wesley and went in, but I couldn't tell from my vantage point. It just seemed like a weird, slow motion roller. To the Canes credit, they really picked up the pressure again after that goal and kept the puck in the Panther's zone most of the time, not allowing Vokoun to leave the ice until there were about 30 seconds left. Final score, 2-1 Canes. It was a nice game for the boys as they snapped a 2 game losing streak and evened up their divisional record to 5-5. They also put themselves back into sole possession of 2nd place in the conference with 27 points.
I usually don't get into personal matters on this blog because I doubt that most readers are interested in any of that stuff, but I'm going to make an exception this time and say a big thank you to the folks of the Canes Country messageboard who organized an awesome tailgate party Saturday night. I really had a fantastic time! A big thanks to everyone who brought so much stuff. We even had a shout out for canescountry.com by the "Wufpirate Dave" and "Cricket" when they called Chris Clark on the Aftermath show on 850 The Buzz. Any publicity is good publicity, right guys?! Seriously, it was a good time with good people and that's what tailgating is all about. Speaking of Chris Clark, there will be a new "Take Ten" article featuring him posted shortly!

Neil Young