Canes Country Blog has received a couple of emails from a representative of Easton Hockey with some interesting news that they asked us to share with our readers. Easton of course is a leading manufacturer of hockey equipment but they have yet to get into the helmet market. That is until now! Check out this sleek new helmet, called the Stealth 17 which several NHL players are testing out right now.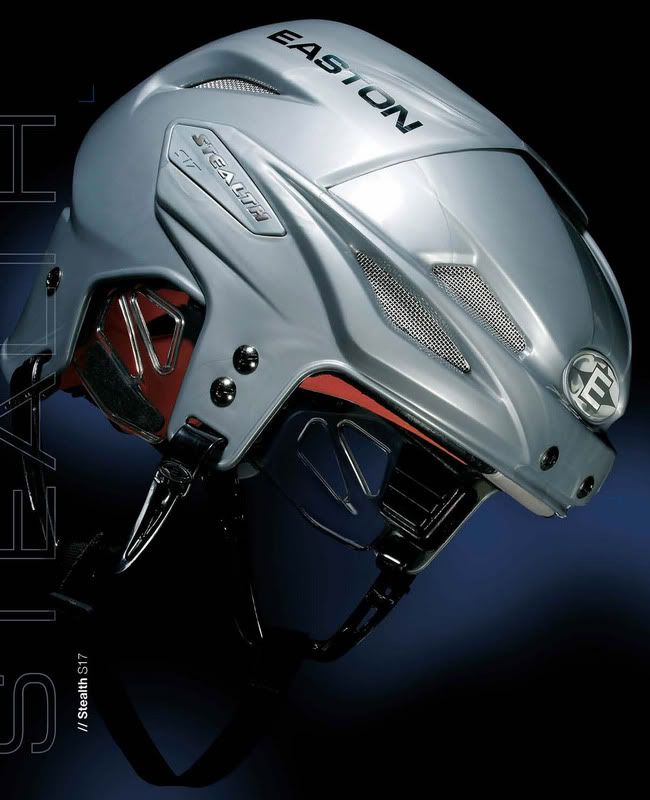 Here is the press release with more information:

Easton Brings New Technologies and Innovations to Helmet Category
VAN NUYS, Calif. (November 14, 2007) â€" Easton Hockey, the designer and manufacturer of the No. 1 stick and glove in the NHL, has introduced the Stealth helmet, its initial introduction into the helmet category. The all-new line, made up of the S17 and S9, is among the biggest product introductions in Easton Hockey's history, according to Ned Goldsmith, vice president of Easton Hockey.

"The helmet category is one of the only areas Easton didn't participate in and the new helmets truly round out our entire product line. We didn't want to come to market with just any helmet. We wanted a superior design, style, comfort, durability and of course protection. We wouldn't settle for anything less," Goldsmith said. "The S17 and S9 are going to make an immediate impact. Our long list of NHLers and our dedicated R&D team contributed to the extensive research that was done in the creation of these helmets. The result is stellar and players will notice right away. The new technologies and design will make for the best comfort, fit, protection, and style on the market."

The Stealth S17 is the flagship of the line and similar to Easton's other industry leading hockey products, it features a variety of innovations and technological advancements. Helmet features include the MonoLockâ"¢ Sizing System, which is a tool-less sizing feature that keeps the bulk off the sides of the helmet and utilizes a "player-friendly" lever on the back. The InFormâ"¢ Fit System, created by Easton's action sports sister company GIRO, is the best-fitting, easiest to operate micro-adjustment fit-band in hockey. It surrounds the head comfortably and securely. Easy to use height adjustable ear pieces also add to the instant customizability of the Stealth S17. Independent temple foams have a lower density for increased comfort and built in screws to make it easy to access hardware.

The Stealth S9 maintains all the style, comfort and durability of the S17, but in a lighter, simplified form. With a dual-density Vinyl Nitrite liner and superior ventilation the S9 provides comfort and a low-profile fit unlike any helmet on the market. It also features single screw size adjustment and height adjustable ear pieces for easy customizing.

Both the Stealth S17 and S9 helmets will be available at major sporting goods retailers in May 2008.
The Stealth helmet series isn't shown yet on the company's website, (last time I checked), but I'm told more information is available upon request. If anyone wants more information, just shoot me an email at canescountry@gmail.com. With all the head injuries in hockey, it only makes sense that helmet manufacturers would attempt to make their products safer. Hopefully the improvements will work!
Easton also just came out with a new set of bags named within the Stealth Series. Here's a photo and the related press release.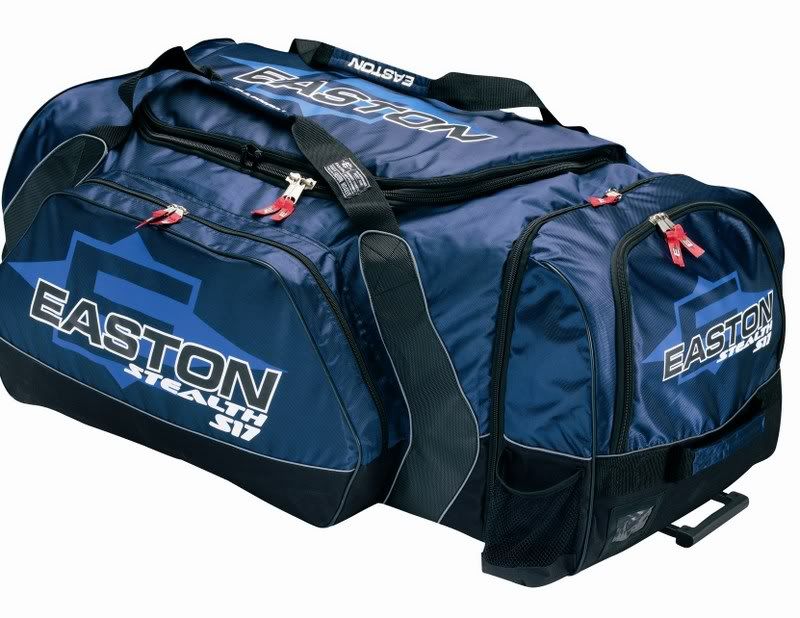 New Models Include Stealth S17 Bag and Stealth SUB Wheel Bag
VAN NUYS, Calif. (November 30, 2007) â€" Easton Hockey has expanded its bag offerings for 2008 with the introduction of the all-new Stealth S17 bag and the Stealth SUB wheel bag. The two models, touted as the flagship of the line, were designed to make transport as easy as possible for the player, according to Ned Goldsmith, vice president of Easton Hockey.

"If a player is going to invest in skates, pads, sticks, and other gear, it's only natural to offer the highest quality bag for them to transport and protect their gear," Goldsmith said. "At Easton we're constantly thinking of innovative ways to make life easier for players. These new bags were developed with more space and options than ever before to make the commute to and from the rink as easy as can be."

With four sizes including wheel and non-wheel options in four different colors, the all-new Stealth S17 bag is designed for players of all levels and sizes. The S17 bag features a removable end pocket with ID holder and shoulder strap which turns into a separate carry bag. Mesh is used on three sides for increased ventilation to keep equipment dry along with a meshed side pocket perfect for a water bottle. A side skate pocket, large end pocket and small valuables pocket are added bonuses for player convenience.

Featuring a telescopic pull handle and heavy duty three-wheel system for easy travel over rough terrain, the Stealth SUB wheel bag is among the top bags offered by Easton. The ventilated U-shaped top flap zipper allows for easier access and closure. Built with a rugged construction of PVC coated 600D and 420D Dobby material the SUB wheel bag will stand up to the harshest conditions. Four additional pockets along with two mesh water bottle holders give the player the option to carry any gear they might have.
Thank you Ben, for all this information! Check out the Easton Hockey link here, or under the "Other Hockey Links" section on the left sidebar.
The Hurricanes are in Tampa Bay to take on the Lightning tonight. That will be another tough game for Carolina. I'll have some info up about that game later today at lunchtime.