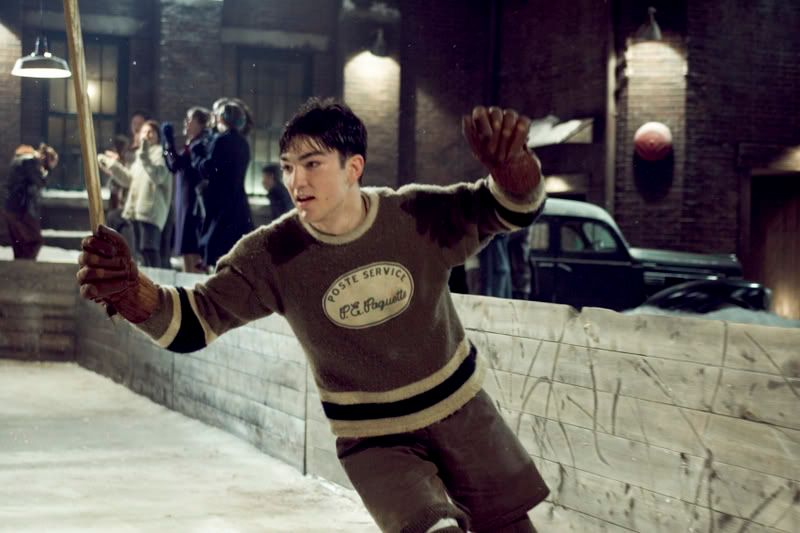 For those of you who are still looking to get a gift for the hockey fan who has everything, check out "The Rocket: The Legend of Rocket Richard", a great hockey movie depicting the life story of Maurice "The Rocket" Richard. The DVD is being released today, December 11th! Here is the press release for the highly acclaimed film, which has been called "The Gladiator of Hockey Movies!"
On behalf of Palm Pictures, we would like to announce the upcoming December 11th release of "The Rocket: The Legend of Rocket Richard". This is the extraordinary story of Maurice "The Rocket" Richard, whose tireless fight on-and-off the ice ignited â€" and forever changed â€" a generation.
As a young boy from blue collar Québec, Richard had a dream to play in the National Hockey League. Beneath his soft-spoken, working class exterior burned a passion that transformed this young factory worker into "The Rocket." In the 1950s pre-helmet days of hockey, facing constant discrimination, The Rocket played with finesse, speed, and the fire that defied all odds and made him a legend.
In addition to the already great cast, the following professional hockey players are featured in this film:
-Sean Avery of the New York Rangers
-Pascal Dupuis of the Atlanta Thrashers
-Ian Laperriere of the Colorado Avalanche
-Vincent Lecavalier of the Tampa Bay Lightening
-Stéphane Quintal previously of the Montréal Canadiens
-Mike Ricci previously of the Phoenix Coyotes
For more information, check out this link. The studio's site also has an online game where you can sign up to win prizes, which includes signed memorabilia. Best news of all, you can order the movie online directly from the source and receive a discounted price. Happy shopping right here! Check out this trailer of the film to get an idea what it's like:
[coolplayer width="400" height="380" autoplay="0" loop="0" charset="utf-8" download="1" mediatype=""]
The Rocket
[/coolplayer]