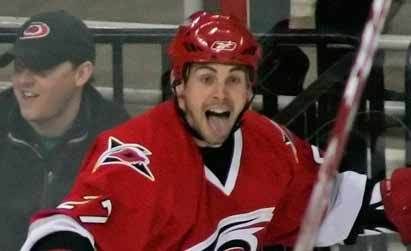 Carolina Hurricanes "enforcer" Craig Adams was suspended for two games by the NHL league office yesterday. Adams took a swing at Toronto's Alex Steen with his stick during the game on Tuesday night and even though he was given a 2 minute penalty for high sticking, the league office obviously felt more punishment was warranted. Canes beat writer Luke DeCock and Adams both expressed surprise over the length of the suspension.
Adams had this to say:
I was very surprised," Adams said. "When it happened, it was obviously an accident. I was concerned how it would look on the tape, but given the fact that the ref was standing right there and only gave me a minor penalty and the fact that nobody on their team looked at me sideways, I figured everyone kind of saw what happened and got a good feel for it."So it's disappointing. I don't understand where it sort of fits in the context of other things that we've seen this year. You hit a guy from behind and put him out for four months with a concussion, you get two games. You accidentally hit a guy over the helmet with your stick, with no intent and no injury, and you get two games. I have no idea how that works."
As far as the Hurricanes are concerned, the suspension couldn't have come at a worse time since both David Tanabe and Chad LaRose will miss at least the next game or two due to concussions. I have no idea how Tanabe got hurt, but LaRose was boarded pretty badly during the Toronto game and was wobbly immediately afterwards. They both failed baseline tests and didn't make the trip to Florida. While Luke said that they could join the team later, I doubt very much they will make it to Tampa Bay for Saturday night's game either. Andrew Ladd and Rod Brind'Amour both made the trip and are recovering from the flu but are expected to play.
The Canes would probably like to borrow a couple of players from Albany, but as I already mentioned a couple of days ago their lineup was decimated by the flu over the weekend. They actually had to call up 8 players from the ECHL to fill in for them. I will keep an eye out for updates regarding this and other tidbits about the game tonight and post them here at lunchtime.
[coolplayer width="100" height="100" autoplay="0" loop="0" charset="utf-8" download="1" mediatype=""]
Nazareth
[/coolplayer]