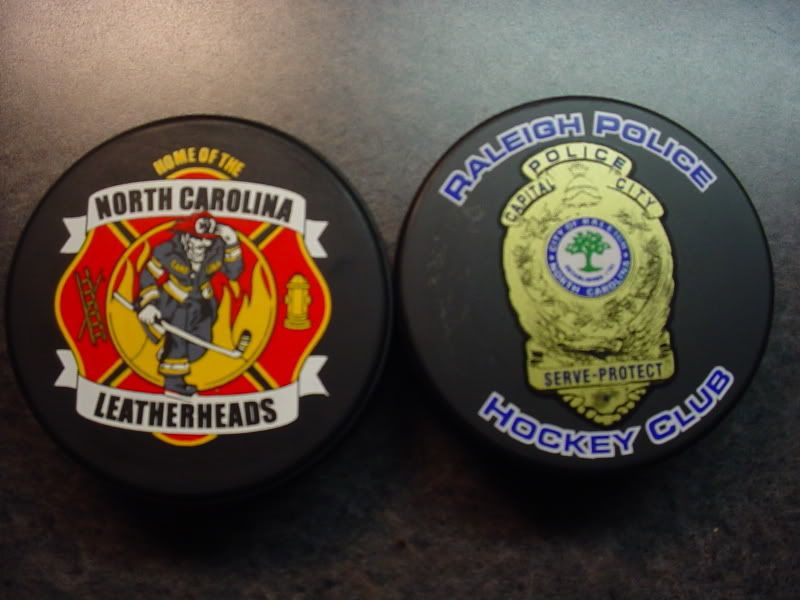 The Raleigh Police Department hockey team, (the Blueliners) defeated the Raleigh Durham Area Firefighters, (the Leatherheads) 7-5 last night in an exciting, back and forth hockey game for charity at the RBC. Last year during the first event between these groups, the Leatherheads won by the exact same score.
The charities were The 200 Club of Wake County and The UNC Burn Center for Children
Chad LaRose coached the firefighters while Justin Williams and Mike Commodore coached the police. (Williams seemed to be moving around well and without a noticeable limp.)
LaRose was his typical comical, show-boating self. When interviewed between the 2nd and 3rd periods and asked why the firefighters were losing, he claimed that Commodore had the Blueliners playing "Mike Commodore brand hockey....clutch, grab, and hold. The men in the striped shirts should give their heads a shake!" Great stuff!
John Forslund and Tripp Tracy provided the play by play and analysis throughout the game and intermissions, and did an excellent job.
The game was an entertaining, competitive one throughout. The Leatherheads had pulled their goalie and also had a man advantage because of a late penalty as they tried to tie the score during the last minute. But the police stole the puck and skated it in for an easy empty netter and clinched the game.
I was surprised by the size of the crowd when I got there and it was announced to being just under 3,000 spectators. The RBC staff had to open up extra sections for the people standing several rows deep in the lounge area. At one time John Forslund mentioned that over $12,000 had been raised for the charities, but I'm sure the amount will be higher when all is said and done.
Props to everyone involved, it was a very enjoyable evening! The crowd was loud, responsive, and energized, the players gave it everything that they had, the referees, (Ron the Ref and Pat Bush) kept the sometimes chippy game under control, and the RBC staff did an excellent job. I'm sure everyone looks forward to the game next year!
Kudos as well to Chad LaRose, Mike Commodore, Justin Williams, Craig Adams, John Forslund, Tripp Tracy, Canesvision, and the rest of the Hurricanes staff who donated their time for the game. It was a long day for most of them because of the "Skate with the Canes" event, another charity function held earlier in the day.
Here are a couple of pictures that I took from my vantage point.