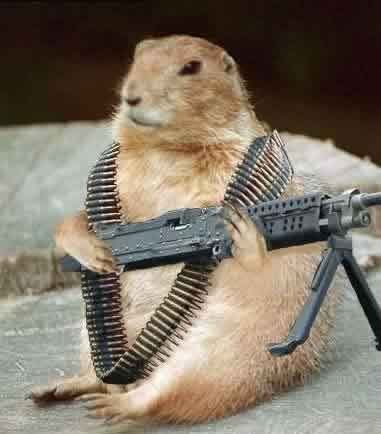 Happy Groundhog Day hockey fans! This Carolina groundhog must have seen his own shadow on this beautiful sunny day, so that means 6 more weeks of winter. While many people around the continent are celebrating the day, Caniacs are hoping that it's not like Groundhog Day (the movie) for the Hurricanes when they visit Mellon Arena tonight. The location has not exactly been a bastion of good health for Carolina skaters over the past couple of years.
For instance two years ago, Erik Cole suffered a broken neck when he was boarded by Brooks Orpik. Trevor Letowski was knocked unconscious to the ice by Colby Armstrong last year, and most recently Scott Walker was injured by Jarkko Ruutu in a reckless collision near the net in a game earlier this year. I don't recall any Penguins getting injured by the hands of the Canes during these games, it's been all one-sided.
Lord Stanley's Blog is reporting that the lineup will be the same as the previous game. Jeff Hamilton will be starting at the 3rd line center position. Management is obviously showcasing him, hoping that another team gets interested enough to pick him up on re-entry waivers, but are they doing so at the possible expense of winning games? Keith Aucoin is still tearing up the AHL in Albany and had 5 assists last night. Remember the last time he was in Raleigh, I believe that he scored 2 goals and had 2 assists in 3 games? If Hamilton continues to struggle, one must think that Aucoin would have to get another opportunity, eventually.
The Hurricanes have won 4 out their past 5 games and coincidentally enough, the previously anemic defense has helped out with the scoring in each of those wins. Tim Gleason scored against the Oilers, 5 games ago. Mike Commodore had a goal against the Islanders 4 games ago and another one against the Islanders in the loss at the RBC. Gleason had another goal and a nice assist in the last win against the Leafs. The blueliners have also been able to tighten things lately up in their own end as well. Can they continue to contribute tonight?
Sidney Crosby is still injured for the Pens, but the team is a respectable 2-2-1 without the superstar on the ice. Keep an eye out for Evgeni Malkin, another Russian star whom I refer to as "Robocop". Am I wrong? After recovering from a slow start, Jordan Staal is dangerous as well for the Pens. Ty Conklin, the goalie who came in for an injured Dwayne Roloson during game 1 of the Stanley Cup finals in 2006 at the RBC, (and gave up that fluky goal to Brind'Amour from behind the net), has been playing very well for Pittsburgh since the injury to Marc-Andre Fleury. It's a chance for him to lay some payback on the Canes tonight. Of course Carolina might have something to say about that.
Speaking of Jordan Staal, this is the third game in a row that a member of the Hurricanes will be playing against a younger sibling. Two games ago, Eric Staal played against younger brother Marc. Last game, Frantisek Kaberle played against younger brother Tomas, and tonight Staal will face yet another younger brother, Jordan. The elder statesmen won each of the previous affairs, can they make it 3 in a row tonight? Glove tap to Cynthia who emailed me that little tidbit to share with readers.
Bubba's keys to the game....



Stay healthy! Carolina can ill afford anymore injuries, especially with Matt Cullen out indefinitely with vision problems.


Watch out for Jarkko Ruutu. The dirty Finn has a habit of people falling to injury when they skate near him. The latest victim was Ilya Kovalchuk after going knee to knee with the goon a couple of games ago.


Make sure the defense stays active in the Penguins zone and continues to put the puck on net.


Cam Ward needs to stay sharp.


Game time is at 7:30 tonight on FSN.