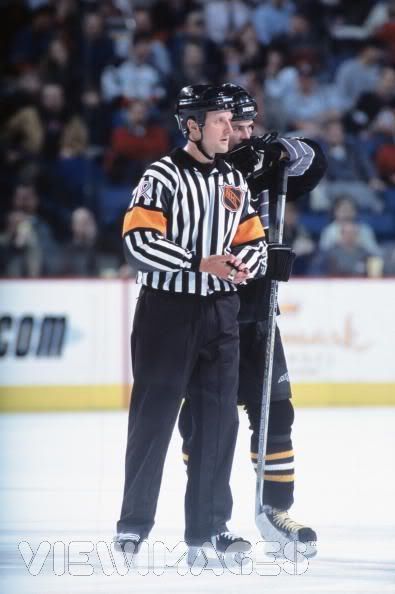 NHL "official" Brad Watson falls within at least one of these three criteria.



He simply hates Carolina because of some unknown reason.


He's just an incredibly bad referee.


He makes calls based upon taking orders from the league office, rather than how he actually sees a game.


This is a referee who not only made numerous questionable calls against the Hurricanes last night, he has a proven history doing so against this team. Remember the game against Florida when
Jacques Martin
had complained in public papers about Carolina "diving", and less than 24 hours later the very next time the two teams met, Watson called not one, but two diving calls against the Canes? One of those calls was when
Justin Williams
was literally tackled to the ice.
Mr. Watson was at it again last night when he made more than a couple of mysterious calls, including a bench minor for unsportsmanlike behavior. Heaven forbid anyone question his perfection? The fact that he made diving calls against the Canes the exact same day that the complaints ran in the paper is too much of a coincidence for anyone to ignore. It was obvious that he had made up his mind to call diving against the Hurricanes before the game even started. The only question is whether he made that decision personally, or if he had orders from the league office to do so.
They happened to have been about the only diving calls made against the Canes all year.
Some Caniacs are convinced that the league is so inclined to have Alexander Ovechkin make the playoffs, that they would coerce the referees to help the cause along. While I'm not sure that I buy that argument, the league certainly couldn't have had a "better" company man on the job than Brad Watson last night, if that was their intent.
Now the Hurricanes and their fans have the distinct pleasure of having Mr. Watson officiate yet another game at the RBC tonight. Does anyone really think that there is the slightest chance that it will be an impartially reffed contest? I didn't think so. Hopefully the majority of Caniacs will be joining me as I boo that scumbag at every opportunity.
Speaking of "bad to the bone", the Hurricanes didn't necessarily look very good last night. While the refereeing was questionable, it did not cost Carolina the game. The Canes got off to another slow start and I was not pleased with their play overall. Scott Walker came fired up but it seemed like the rest of the team wasn't quite with it. The Caps definitely wanted the game more so than the Canes did, or at least played that way.
Some comments from the peanut gallery.....
Brooks Laich's goal at the 19 minute mark of the first period was a killer. How could Cam Ward slide over prematurely, virtually giving him an easier shot? I don't get that play.
I just stood up for Ovechkin the other day and said that I did not think he was a diver. Allow me to retract that statement. After watching him fall emphatically to the ice after Bret Hedican lightly shoved the back of his head, indicated to me that he is indeed a diver. He now leads places 2nd in the entire league in penalties drawn.
It looks like it was a mistake to have played Ray Whitney and Justin Williams in favor of Brookbank and Conboy, or even Jensen. Williams pulled a muscle in his back and he returns to day-to-day status. Whitney was a non-factor, other than the 2 hooking penalties that he took. Those were both good calls. One might think that "the Wizard" would know by now not to use his stick in that way to play defense.
The Canes seemed to turn their season around a couple of months ago using the physical play of Brookbank and company. They certainly could have used more of that again last night.
The boys could only muster a pathetic 22 shots on goal. They aren't even going to be able to beat many junior teams with an effort like that.
In conclusion.....
Carolina can still make the playoffs and win the division if they win the next two home games against Tampa Bay and Florida. Both will be extremely tough games because beating Carolina would be the highlight, of their otherwise pathetic seasons.
Bottom line.....if the Canes can't beat these two cellar dwellers in their home barn with everything on the line, they quite frankly don't deserve to make the playoffs.
Pre-game hype posted later after lunch.

George Thorogood