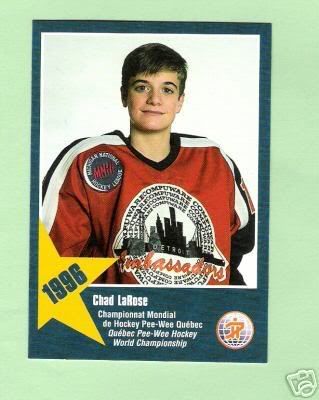 Chad LaRose scored his first NHL career hat-trick and the Carolina Hurricanes dominated the Tampa Bay Lightning last night, 6-2. The win puts Carolina on the threshold of the Division championship as they just need one more win (or Washington loss), to lock things up.
The Canes started this game much differently than the previous night in Washington. Eric Staal took a puck from coast to coast and beat Tampa goalie Mike Smith with a nasty shot just 30 seconds into the game. After the Lightning evened the score with a powerplay goal, Chad LaRose scored his first goal of the night later in the 1st period during a mad scramble for a loose puck in the crease. The period ended with the score 2-1.
Chad LaRose opened the scoring in the 2nd period during kind of a weird play when Joe Corvo was actually crosschecked into the net just before Rosie fired the puck into it. Mike Smith wasn't amused that the goal still counted, but it was 3-1 Canes. Later in the period during a powerplay opportunity, Smith slipped and fell while attempting to play a puck in the corner, and left the net wide open. Scottie Walker took advantage, making the score 4-1 and virtually putting the one-sided contest away.
Early in the 3rd period during another powerplay chance, Sergei Samsonov made a beautiful move and passed to Tuomo Ruutu, who rifled in a perfect shot making the score 5-1. Tampa added another powerplay goal of their own, but the game was as well as over. Coach Laviolette moved LaRose up to the first line with Staal and Cole, and everyone knew that they were trying to help Chad get his first NHL "hattie".
Finally, with a little over a minute left, Erik Cole made a beautiful pass which banked off the boards and hit LaRose right in full stride while he was streaking at the blueline. Rosie broke into the clear and made a perfect skill move on Smith, as he faked to his forehand and shot with his backhand. The hats rained down and some lucky dude won a tractor.
The Hurricanes were much more focused for this game and had 16 shots on goal in the first period alone, compared to the game total of 22 taken against the Caps. If they can put together one more performance like that one on Friday night against the Panthers, they will be celebrating the 4rth Southeast Division Championship in their 10 year history.
Some thoughts from the peanut gallery.....
Keep Sergei Samsonov and Tuomo Ruutu together! It seemed like they had chemistry together earlier in the year and they looked great together again last night.
Matt Cullen might be rushing things with his comeback. Hopefully, he knows what he is doing.
Ray Whitney looked better last night than he did against the Caps, but he still looks a bit slow and needs his timing. It might take him a few more games to get back up to his normal speed.
Eric Staal looked like a man who was going to do whatever it took not to lose. He had an outstanding game.
Cam Ward had another solid game. I don't think he stood a chance on the two goals he allowed, so there were no softies tonight.
Laviolette decided to bench Brookbank once again and play Dennis Seidenberg, giving him the 7 defensemen option. John Forslund said after the game that some of the blueliners are banged up. I thought that Seidenberg had a great game.
The defense played well as a whole. Joe Corvo looked more active tonight and had a couple of decent scoring chances.
It's hard to believe that Mike Smith was the cornerstone in that Brad Richards trade. It's obviously still too early to tell, but the kid doesn't impress me at all. That makes two consecutive blowouts in Raleigh for the "rising star".
Again, congratulations to Chad LaRose for his outstanding game. He now has 5 points in his last 4 games since returning from his injury, (broken leg). If the "Chuck Norris" of hockey keeps working this hard, good things will keep on happening for him.

AC DC