The "Young Guns" of the Carolina Hurricanes organization are in town this week to take part in the annual conditioning camp for prospects. During the camp, which is officially running from July 9th to the 12th, the players will learn new physical training techniques, have media training, learn proper eating habits, and will be taken to a grocery store by a nutritionist.
Carolina's Strength and Conditioning Coach, Pete Friesen will be running the camp. The boys will also be given an on-ice session each day, beginning at 4:45 and lasting until 5:45. The ice sessions are open to the public and will be held at the Rec Zone.
Here is a complete listing of players along with the number they will be wearing.



70 Mike Murphy-goaltender


29 Bryan Rodney-defense


62 Jamie McBain-defense


73 Brett Bellemore-defense


16 Brandon Sutter-forward


23 Zach Boychuk-forward


37 Zac Dalpe-forward


54 Stefan Chaput-forward


58 Chris Terry-forward


61 Samuel Morneau-forward


Jamie McBain
and
Zac Dalpe
are paying their own way to the camp because they will be playing college hockey this fall. The NCAA won't permit them to get a free ride like the other prospects.
As was the case last year, the Hurricanes website isn't very up-to-date with recent information for these guys, so I will post a mini-biography for each of them here.
Brandon Sutter
Sutter was the Hurricanes number one draft pick in the first round of the 2007 draft. The center had 23 goals and 26 assists in 56 games for Red Deer last year before being sent to Albany after his juniors campaign was completed. He scored one goal and had one assist in 7 games for the River Rats.
Brandon is currently penciled in as the Canes 4rth line center for the coming year. It looks like the position is his for the taking, if he wants it badly enough.
Mike Murphy
Murphy literally came out of nowhere this past season to win Goaltender of the Year honors in the OHL. He posted a tremendous 36-7-4 record with the Bellevile Bulls and had a .929 save percentage and 2.21 GAA. The Canes selected him in the 6th round of the 2008 draft with the 165th overall pick.
I would expect the goalie to return to Belleville next season.
Jamie McBain
McBain is one of the top defensive prospects in the Hurricanes system. He had 5 goals and 19 assists in 35 games for the University of Wisconsin last season. He has also been a mainstay on the blueline for the US Juniors team for the past couple of years. The Canes selected him in the 2nd round of the 2006 draft.
Jamie will return to Wisconsin to play for them again this fall.
Zach Boychuk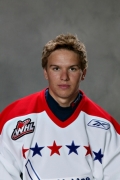 Boychuk was the 1st round draft pick in this year's draft for the Hurricanes. Last year he scored 33 goals and had 39 assists in 61 games for the Lethbridge Hurricanes. He also has played for Team Canada in Juniors competition.
It is expected that Zach will return to Lethbridge for next season, but crazier things have happened. If the Canes can't re-sign Chad LaRose, here is a player who might be able to take his place. He needs to impress the right people in training camp first though.
Brett Bellemore
Bellemore is a defenseman who scored 6 goals and had 18 assists in 56 games with the Plymouth Whalers this past season. He was selected in the 6th round of the 2007 draft.
Brett should be able to make the River Rats squad and develop more in Albany this coming year.
Zac Dalpe
Dalpe is another late bloomer and was selected in the 2nd round of this most recent draft. He scored 27 goals and had 36 assists in 46 games for Penticton last year.
The forward made a commitment to play for Ohio State next season, but was drafted anyway by the Plymouth Whalers. There was a little bit of a ruckus in Ohio when the Canes reportedly tried to convince Dalpe to play for the Whalers instead of going to college this fall, but the latest seems to be that he will indeed honor his commitment to the Buckeyes.
Chris Terry
Terry had a breakout year last season for Plymouth as he scored 44 goals and had 57 assists for a total of 101 points in 68 games. He's also a bit of a tough customer in that he racks up a few penalty minutes along the way. (check him out on Hockeyfights.com) The forward was drafted by the Canes last year in the 5th round of the 2007 draft.
Terry is 19 and has one more year of eligibility with Plymouth, where he will probably be returning next year. By the way, this is his 2nd conditioning camp in a row. It's a bit unusual for players to attend twice, but he and Brett Bellemore are doing exactly that.
Stefan Chaput
Chaput was selected in the 5th round of the 2006 draft. He had a very good season last year scoring 33 goals and 36 assists in 62 games for Lewiston in the QMJHL.
I believe that he will also be trying out for Albany next season.
Samuel Morneau
Morneau was just drafted recently in the 7th round of this year's draft. The forward scored 23 goals and had 19 assists for Baie-Comeau in the QMJHL.
He will be returning there again for next season.
Bryan Rodney
Rodney is a free agent pickup and will be considered the old man of this group. He played for Albany for a stretch last year and registered 4 goals and 11 assists in 42 games for the River Rats.
It is expected that the defenseman will return to Albany again next season.
Some of you might be asking, where is Drayson Bowman, the scoring sensation who lit up the Memorial Cup Tournament while helping his team, the Spokane Chiefs win it all this past season? Bowman was invited to a Team USA session in Lake Placid, NY and will be attending that soon.
Also, the youngster attended the camp last year.
For those of you who may have missed it, I posted similar mini-biographies for each attendee last summer. Although for some reason, I posted the information in a three part series. Here are links to each part.
Conditioning Camp 2007, Part 1
Conditioning Camp 2007, Part 2
Conditioning Camp 2007, Part 3
For those of you thirsting for any type of hockey, you can at least watch these guys skate through drills at the Rec Zone for the next 4 evenings. Michael Leighton will be joining them on the ice. Usually, a Hurricanes coach and a player or two will be there as well. Last year, Ron Francis was helping out.