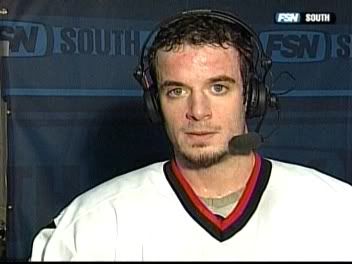 The Carolina Hurricanes just announced the signing of forward Chad LaRose to a one year contract for $875,000. The agreement will keep the two parties from entering into a salary arbitration hearing, which LaRose signed up for a couple of weeks ago.
Hurricanes General Manager Jim Rutherford said that the signing should be the final one for the team, heading into the next season. LaRose had a career year last year and will be hoping to have a repeat performance in 2008-09.
More from the Hurricanes presser-

LaRose, 26, completed his third NHL season with the Hurricanes in 2007-08, earning career highs in goals (11) and points (23) and matching his career high in assists (12), despite playing in only 58 of Carolina's 82 games. LaRose (5'10'', 181 lbs.) was tied for the team lead in shorthanded points (2) and led all Hurricanes forwards in plus/minus (+6). The Fraser, MI, native returned to action for the Hurricanes' final five games of the season after missing 21 games with a broken leg suffered against the Nashville Predators on Feb. 5. He had points in four of Carolina's final five games of the season, including his first career hat trick on April 2 against Tampa Bay.
LaRose, who originally signed with
Carolina
as an undrafted free agent on
Aug. 6, 2003
, has totaled 18 goals and 36 assists (54 points) in 187 career NHL games with the Hurricanes. He had one assist while playing in 21 of
Carolina
's 25 playoff games in 2006 en route to the Stanley Cup championship.