The Carolina Hurricanes announced yesterday that they will host a "Summer Fun Fest" at the RBC Center on Thursday, July 24th. There will be live music, street hockey, reduced food prices, and a showing of the "Miracle at Molson" on the front lawn.
The event will also be used as a marketing tool to drum up some season ticket sales, so bring your checkbook and credit card just in case you happen to see a seat that you just can't say no to. Apparently, anyone who wants to will be allowed in the RBC to check out available seats during the festivities.
The official schedule is as follows-



6 - Lawn opens with street hockey, discounted food and beverages, inflatables for kids, and live music.


6:30 - Select-a-seat for general public begins


8-9 - Guest speakers from the Hurricanes will address audience.


9-11 - Replay of the memorable 2002 playoff game against Montreal which was dubbed the "Miracle at Molson"


Hurricanes players and coaches are scheduled to appear.
The "Miracle at Molson" will bring back some fond memories.



Montreal Coach Michel Therrien screaming at referee Kerry Fraser and drawing a bench minor.


Hab-killer Erik Cole scoring the tying goal with just seconds left, then chest bumping the glass much to the dismay of the Montreal faithful.


Secret weapon Nic Wallin scoring the game winner in OT.


Hab goalie Jose Theodore's meltdown, which in my opinion adversely affected his confidence for a good part of his career after that game.


Some people will probably attempt to use this "Fun Fest" as a cheap excuse to do some tailgating. Why not?
In somewhat related news, apparently Anaheim's AHL affiliate in Iowa has changed their team name and logo. In recognition of the regional pork industry, the team is calling themselves the Iowa Chops.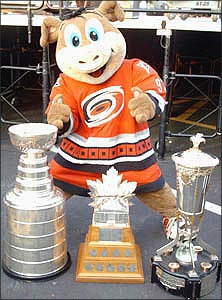 Of course, Puck Daddy and James Mirtle are all over this one.
Caniacs should hope and pray that their lovable ice hog and team mascot, "Stormy" stays out of Iowa!
_
_
-

J Geils Band