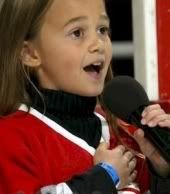 The Carolina Hurricanes will bring back young phenom, Katherine Fritsch, as their primary "National Anthem" singer for this coming season. "KK" did an excellent job for the Canes last year after taking over for ex-Storm Squad member, Holly Wilver, the previous season. There are several superb singers who have connections with the Hurricanes, so the selection of Katherine is a testament to the confidence that they have in the youngster.
The Canes Country Blog has been following some of Katherine's "career" since she first came on the scene with the Hurricanes, back in the 2006-07 season. For more information about some of her success stories since then, check out this page as well as this one.
I was also informed that Katherine will be singing the anthem before the Carolina Panthers game this Saturday night, (August 23rd,) against the Washington Redskins at the Bank of American Stadium. Good luck "KK", we'll be watching.